The Reinventor's Fieldbook: Tools for Transforming Your Government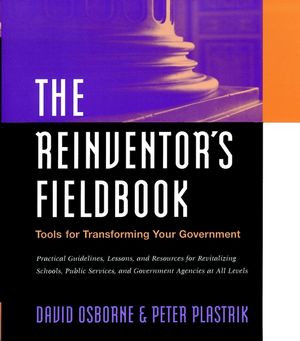 The Reinventor's Fieldbook: Tools for Transforming Your Government
ISBN: 978-0-787-94332-5
Jul 2000, Jossey-Bass
704 pages
Description
Presenting more than 70 tools, The Reinventor's Fieldbook includes hundreds of practical "lessons learned," "do's and don'ts," "steps to take," and "pitfalls to avoid" in public management and governance. Based on dozens of case studies from five countries, it covers the waterfront of high-performance public organizations, including: customer choice and customer service standards, performance measurement, and performance budgeting; employee empowerment and labor-management partnerships; managed competition and asset privatization; partnerships with communities; culture change strategies; and administrative system reform.
THE CORE STRATEGY: CREATING CLARITY OF PURPOSE.

1. Improving Your Aim: Using Strategic Management to Create Clarity of DirectionVisioning Outcome Goals Steering Organizations Strategy Development Mission Statements Long-term Budget Forecasting Strategic Evaluation.

2. Clearing the Decks: Eliminating Functions That No Longer Serve Core Purposes Program Reviews Periodic Options Reviews Sunset Reviews Asset Sales Quasi Privatization Methods Devolution.

3. Uncoupling: Creating Clarity of Role by Separating Steering and Rowing Flexible Performance Frameworks.

THE CONSEQUENCES STRATEGY: INTRODUCING CONSEQUENCES FOR PERFORMANCE.

4. Enterprise Management: Using Markets to Create Consequences Corporatization Enterprise Funds User Fees Internal Enterprise Management.

5. Managed Competition: Using Competitive Contracts and Benchmarks to Create Consequences Competitive Bidding Competitive Benchmarking.

6. Performance Management: Using Rewards to Create Consequences Performance Awards Psychic Pay Bonuses Gainsharing Shared Savings Efficiency Dividends Performance Pay Performance Contracts and Agreements Performance Budgets.

7. Performance Measurement: The Critical Competency.

THE CUSTOMER STRATEGY: PUTTING THE CUSTOMER IN THE DRIVER'S SEAT.

8. Competitive Customer Choice: Making Customers Powerful Through Choice and Competition Competitive Public Choice Systems Vouchers Customer Information Systems Brokers.

9. Customer Quality Assurance: Making Organizations Accountable for Service Quality Service Standards Quality Guarantees Redress Complaint Systems Customer Councils and Boards Customer Service Agreements Customer Voice: A Critical Competence.

THE CONTROL STRATEGY: SHIFTING CONTROL AWAY FROM THE TOP AND CENTER.

10. Organizational Empowerment: Giving Managers the Power to Manage Decentralizing Administrative Controls Site-Based Management Waiver Policies Opting Out for Chartering Beta Sites Reinvention Laboratories Intergovernmental Deregulation Mass Organizational Deregulation.

11. Employee Empowerment: Giving Frontline Employees the Power to Improve Results Delayering Management Organizational Decentralization Breaking Up Functional SilosLabor-Management Partnership Work Teams Self-Directed Teams Employee Suggestion Programs.

12. Community Empowerment: Giving Communities the Power to Solve Their Own Problems Empowerment Agreements Community Governance Bodies Community Visioning and Goal Setting Collaborative Planning Community-Based Funding Asset Transfers to Communities.

THE CULTURE STRATEGY: DEVELOPING AN ENTREPRENEURIAL CULTURE.

13. Changing Habits: Creating a New Culture by Introducing New Experiences Meeting the Customers Walking in the Customer's Shoes Job Rotation Internships & Externships Cross Walking & Cross Talking Institutional Sponsors Contests Large-Scale, Real-Time Strategic Planning WorkOuts Hands-On Organizational Experiences Redesigning Work.

14. Touching Hearts: Developing a New Covenant Within Your Organization Creating New Symbols Telling New Stories Celebrating Success Honoring Failure New Rituals Investing in the Workplace Redesigning the Workplace Investing in Employees Bonding Events Sending Valentines.

15. Winning Minds: Changing Employees' Mental Models Surfacing the Givens Benchmarking Performance Site Visits Learning Groups Creating a Sense of Mission Building a Shared Vision Articulating Organizational Values, Beliefs, and Principles Using New Language In-House Schoolhouses Orienting New Members.

Appendix: General Resources.
"The Reinventor's Fieldbook brings Banishing Bureaucracy to life. We have needed such a resource for decades. Bravo to Osborne and Plastrik." (Robert C. Bobb, city manager, City of Oakland)

"Osborne and Plastrik provide a user-friAndly roadmap for invigorating government with purpose and performance. This toolbox is a real treat; it contains dozens of useful and practical ideas that can be applied by politicians and managers alike." (Allen Schick, professor of public policy, The University of Maryland; author, Modern Budgeting and The Spirit of Reform)

"This Fieldbook provides critical insight and advice that will help all those interested in civic reform." (Steve Goldsmith, mayor, City of Indianapolis 1992-1999; chairman, Center on Civic Innovation, Manhattan Institute)

"An extraordinary toolkit for anyone who is leading change in the public sector. The Reinventor's Fieldbook will become an essential reference guide for elected leaders and executives searching for more effective organizations." (Robert O'Neil, former city manager of Hampton, Virginia, and county executive of Fairfax County, Virginia; now president, National Academy of Public Administration)

"This fieldbook is required reading for adventurous public officials ready to embark on the path to efficient, relevant government. The real-world examples of reinvention efforts around the globe are true to life, and prepare readers for both the challenges and rewards of government reform." (Beverly Stein, chair of the board of commissioners, Multnomah County, Oregon)