The Relationship Edge: The Key to Strategic Influence and Selling Success, 3rd Edition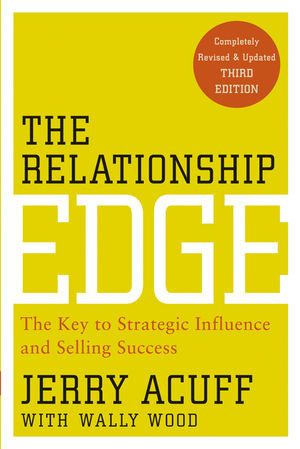 The Relationship Edge: The Key to Strategic Influence and Selling Success, 3rd Edition
ISBN: 978-1-118-01655-8
Jan 2011
272 pages
Description
Get a practical, actionable, three-step process to build and leverage important relationships

Most people know instinctively how to build positive, long-lasting relationships with spouses, friends, and even co-workers–but few of us know how to consciously and systematically build and maintain positive business relationships. For years, The Relationship Edge has successfully shown people how to build personal relationships and repair damaged ones with a proven three-step process.

This completely updated third edition offers a fresh perspective on that process and includes more contemporary case studies, as well as how to build and nurture relationships online.
Develop the right mindset–understand that personal relationships are vital to business success, both offline and online
Ask the right questions–discover the common ground you share with others
Do the right thing–be truthful and straightforward or you'll undermine the goodwill you've worked so hard to build
Jerry Acuff, the author, has a proven record of success with previous editions of The Relationship Edge
With real case studies and step-by-step guidance, The Relationship Edge, Third Edition offers the tools and advice you need to develop strong, rewarding relationships with customers, co-workers, and managers. Jerry Acuff's latest version is packed full of practical, concrete information on the mechanics of interpersonal relationships in the business world, all designed to have you doing business better and more productively than ever.
Preface.
Acknowledgements.
Chapter 1 Relationships Are Everything.
Breathe AIR into Relationships.
Learn to Build Relationships.
Payback Time In Memphis.
Relationships Can Trump Price.
Four Fundamental Selling Truths.
Meaningful Dialogue Comes With Trust.
Chapter 2 Climb the Relationship Pyramid.
The Relationship Pyramid Levels.
You Need Knowledge, Integrity, Actions.
Key Points About the Pyramid.
Chapter 3 How to Build a Relationship.
What You Think Is Step 1.
Learn Strategies, Not Tactics.
Chapter 4 Ask the Twenty Questions.
Start with a Self-Check.
Sharing Creates the Relationship.
Learn What Someone Treasures.
Thirteen Facts About Human Beings.
Let the Other Person Talk.
Sell by Not Selling.
Start with These 20 Questions.
Memorize the Questions, but Think FORM.
Tell Me Something That Will Surprise Me.
Respect Their Time and Opinions.
Plan What You Will Ask.
Chapter 5 Ask the Questions Properly.
Motives Matter.
Setting up a Good Question.
Analyze the Bridge to the Question.
What Do You Need to Achieve Today?
Ask Personal Questions First.
Hold up a Book.
Don't Suggest an Answer.
Find Common Ground.
Make Them Think.
Stimulate Real Thinking.
Ways to Gain Respect.
Chapter 6 Probe for Small World Connections.
Connect for Yourself.
Use the Small World Phenomenon.
Connect for the Other Person.
Connect with Difficult People.
Probe for Connections.
Chapter 7 Build Relationships on Actions.
Show You Genuinely Care About Other People.
Business Gifts Are Not Unselfish Acts.
Be Alert to Opportunities.
Chapter 8 Map Your Key Relationships.
Map Relationships with Four Groups.
People Inside the Organization.
People Outside the Organization.
People Important to Your Career.
People Who Are Upset with You.
Build Relationships Strategically.
Chapter 9 Hop from One Pyramid to Another.
Pyramid Hopping Is Not Networking.
Friendly Is Not the Same as Friendship.
Pyramid Hopping in Practice.
Pyramid Hopping Requires Questions.
Pyramid Hopping Usually Requires Specifics.
Chapter 10 Gain Respect Thirteen Ways.
Identify Qualities You Respect.
Thirteen Ways to Gain Respect.
Examples of Building Respect.
Be Genuinely Interested in the Other Person.
Do What You Say You Will Do.
Be Knowledgeable, Be Inquisitive, or Be Quiet.
Control Your Emotions; Anger Manages Everything Poorly.
Be Honest and Straightforward.
Be Objective and Avoid Appearing Biased.
Be Persistent, but Never Be Aggressive.
Be a Learned Person with Some Expertise.
Be Courteous to Everyone.
Always Listen Intently to the Other Person.
Seek to Understand Other People.
Do Things That Demonstrate Your Unselfish Nature.
Find Out What People Want, and Help Them Get It.
Chapter 11 Write Clear, Specific Goals.
Understand Your Goal-Seeking Mechanism.
Goals Have Five Characteristics.
Be Clear About What You Want.
Write Down Your Goals.
Set Goals In Line With Your Gifts.
Don't Let Others Discourage You.
Take the Pressure Off Yourself.
Chapter 12 Maintain Your Meaningful Relationships.
Create Time for Relationships.
Help Others to Succeed.
Keep the Dialogue Continual.
Make Contact When You Don't Need Help.
Chapter 13 Use Social Media to Build Relationships.
The Goal is to Offer Value.
Form A Network of Relationships.
Don't Friend or Link to Everyone.
Six Tips for Better Social Media Relationships.
Chapter 14 And What If You're The Boss?
The Six Drivers of Business Success.
Problems with Command and Control.
Job Satisfaction and Dissatisfaction.
Problems with Sales Training.
Selling Is Learning and Teaching.
What Managers Should Be Doing.
A Coaching Process for Relationship Development.
Build Relationships Routinely, Consciously, Deliberately.
Notes.
Index.