The Religion of the Romans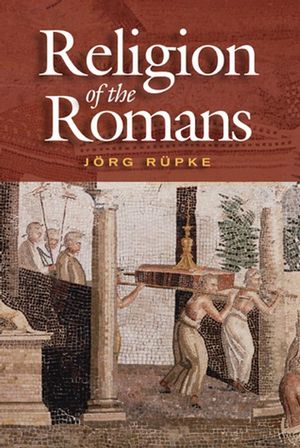 The Religion of the Romans
ISBN: 978-0-745-63015-1
Dec 2007, Polity
368 pages
Description
The gods were the true heroes of Rome. In this major new contribution to our understanding of ancient history, Jörg Rüpke guides the reader through the fascinating world of Roman religion, describing its unique characteristics and bringing its peculiarities into stark relief.


Rüpke gives a thorough and engaging account of the multiplicity of cults worshipped by peasant and aristocrat alike, the many varied rites and rituals daily observed, and the sacrifices and offerings regularly brought to these immortals by the population of Ancient Rome and its imperial colonies.

This important study provides the perfect introduction to Roman religion for students of Ancient Rome and Classical Civilization.
Foreword to the English edition.
List of illustrations.
Abbreviations.
Prolegomena.
1. Religion in the Ancient World.
2. From the She-Wolf to Caesar: historical foundations.
3. Gods and Men.
4. Religious Action.
5. Thinking about Religion.
Part II: Religion in Action.
6. Social Rules: sacrifice and feasting.
7. Managing Lines of Communication: vows and curses.
8. Control of Space: communication and boundaries.
9. Co-ordination: time and the calendar.
Part III: Social Reality.
10. Religion in the Metropolis.
11. Specialists and Professionals.
12. From Caesar to the Lamb of God: historical perspectives.
Bibliography.
Bibliographical note.
Secondary literature cited.
Indexes.
General.
Gods and cults.
Names of persons.
Names of peoples and places
"Rüpke's close readings of texts are an excellent model for students, and his explanations of widely used theoretical approaches are extremely lucid. He covers an enormous amount of material with great concision, and negotiating it is made easier by multiple indices. It is one of the most important contemporary accounts of the field."
Teresa Morgan, Times Literary Supplement
"Rupke is one of the most lively and authoritative scholars on Roman religion writing today [and] this is a concise and informative introduction to the subject."
Journal of Classics Teaching
"This is an excellent, concise, and up-to-date introduction to Roman religion. It expertly surveys both the relevant facts and the underlying issues and will be useful to anyone interested in classical antiquity."
Karl Galinsky, University of Texas at Austin
"Religion of the Romans engages the reader in a conversation about the Romans and their gods. Authored by one of the most original and lively investigators of Roman religion writing in any language, it is as lively as it is erudite. The overview of Roman cult it offers is both new and authoritative, and presents a real challenge to some of the sacred cows of Roman history. Illustrated with a mass of source material of every kind, it will be an essential guide for students, while also provoking established scholars to rethink some of their assumptions about Roman religion."
Greg Woolf, University of St Andrews


Rüpke is one of the leading contemporary experts in the field of Roman religion

An engaging and authoritative study of all aspects of the religion of the Romans

Offers a clear and comprehensive interpretation of the stuctures, practices and social reality of Roman religion, and will appeal to students, scholars and the general reader

An important contribution to the understanding of the historical implications of the Roman religious belief systems, which contains helpful and evocative illustrations