The Religious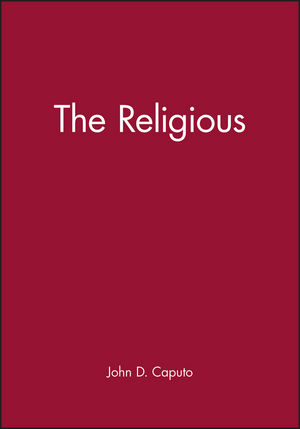 The Religious
ISBN: 978-0-631-21168-6
Nov 2001, Wiley-Blackwell
336 pages
Description
The Religious offers landmark texts from Kierkegaard, Heidegger, Levinas, Derrida, and Irigaray, excerpts from the famous debate between Jean-Luc Marion and Dominique Janicaud, and ten original selections, some of which include coverage of feminist theology.
Contributors.
Acknowledgements.
Introduction: Who Comes After the God of Metaphysics (John D. Caputo).
Part I: Landmarks (Søren Kierkegaard).
1. The Moment: Selections from The Concept of Anxiety.
2. The Wholly Other: Selections from Philosophical Fragments.
3. Faith: Selections from Practice in Christianity (Martin Heidegger).
4. Phenomenology and Theology.
5. The Onto-theo-logical Constitution of Metaphysics (Emmanuel Lévinas).
6. Diachrony and Representation (Jacques Derrida).
7. "My Religion:": Selections from Circumfession (Luce Irigaray).
8. Belief Itself. .
Part II: Contemporary Essays.
9. The Final Appeal of the Subject (Jean-Luc Marion).
10. "Veerings" from The Theological Turn of French Phenomenology (Dominique Janicaud).
11. The Experience of God (Kevin Hart).
12. Eschatology of the Possible God (Richard Kearney).
13. God is Underfoot: Pneumatology after Derrida (Mark I. Wallace).
14. Beyond Belief?: Sexual Difference and Religion after Ontotheology (Ellen T. Armour).
15. "Barely by a Breath...": Irigaray on Rethinking Religion (Grace M. Jantzen).
16. Second Thoughts About Transcendence (Walter Lowe).
17. Materiality and Theoretical Reflection (Charles E. Winquist).
18. Divine Excess: The God Who Comes After (Merold Westphal).
19. Darkness and Silence: Evil and the Western Legacy (John Milbank).
20. Return to Laughter (Sharon Welch).
Index.
"In this collection, the most innovative contemporary continental philosophers speak out about the ways in which religion must be rethought after the end of metaphysics. Can phenomenology in an age of the hyperreal provide an account of what cannot be seen? Is it possible to forge a link between the death of the modern subject and the question of God? Challenging theological complacency, these rich and complex essays do not simply discuss the demise of ontotheology but reinvigorate its classical issues by seeing them in the light of otherness, interruption, and sexual difference."
Edith Wyschogrod, Rice University.
<!--end-->
"An indespensable collection for current poststructuralist and postmodern philosophical and theological discussions." Religious Studies Review, Vol 29, October 2003
Combines readings from classic authors such as Heidegger, Derrida, and Irigaray with original selections from contemporary scholars.

Devotes attention to feminist theology.

Features excerpts from the famous debate between Jean-Luc Marion and Dominique Janicaud about the "theological turn" of French phenomenology.