The Research Process in Nursing, 7th Edition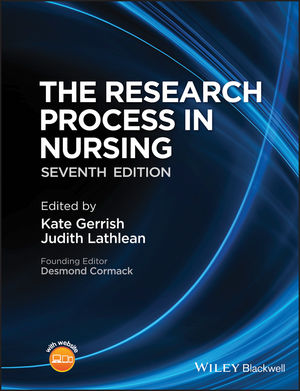 The Research Process in Nursing, 7th Edition
ISBN: 978-1-118-52256-1 January 2015 Wiley-Blackwell 632 Pages
Description
Comprehensive and thorough in scope, The Research Process in Nursing 7th edition provides everything you could want to know about research methods. This established textbook reflects the significant advances in nursing research and the importance of evidence-based practice, and provides an invaluable resource for both the novice and the more experienced researcher.
It includes practical information and advice on:
How to find and critique the evidence
How to choose the right approach
How to collect data
How to make sense of the data
How to put research into practice
Special features:
A clear, explicit and easy to understand text which links theory with practical steps in the research process.
Examples provided allow the reader to apply a variety of research concepts to theoretical learning and professional practice.
Incorporates chapters, research examples, and policy from a range of international countries, including Canada, Australia, USA and Hong Kong.
Provides detailed discussions around each example, which clearly link theory with practice
Easy to read for novice researchers and undergraduate nursing students, but at the same time provides sufficient depth and detail to be of value to experienced researchers and practitioners.
Contributors xiii
Introduction to the 7th Edition xvii
About the Companion Website xx
Section 1 Setting the Scene
Chapter 1 Research and Development in Nursing 3
Kate Gerrish
Chapter 2 The Research Process 15
Anne Lacey
Chapter 3 Research Ethics 31
Martin Johnson and Tony Long
Chapter 4 User Involvement in Research 43
Janey Speers and Judith Lathlean
Chapter 5 Research for a Multiethnic Society 57
Sarah Salway and George T.H. Ellison
Chapter 6 Digital Technologies in Research 71
Susie Macfarlane and Tracey Bucknall
Section 2 Preparing the Ground
Chapter 7 Finding the Evidence 89
Claire Beecroft, Andrew Booth and Angie Rees
Chapter 8 Critical Appraisal of the Evidence 105
Angie Rees, Claire Beecroft and Andrew Booth
Chapter 9 Preparing a Research Proposal 119
Julie Taylor
Chapter 10 Planning and Managing a Research Project 131
Carol A. Haigh
Chapter 11 Gaining Access to the Research Site 143
Leslie Gelling
Section 3 Choosing the Right Approach
Chapter 12 The Quantitative-Qualitative Continuum 159
Annie Topping
Chapter 13 Sampling 173
Katherine Hunt and Judith Lathlean
Chapter 14 Grounded Theory 185
Immy Holloway and Kathleen T. Galvin
Chapter 15 Ethnography 199
Immy Holloway and Kathleen T. Galvin
Chapter 16 Phenomenological Research 211
Kathleen T. Galvin and Immy Holloway
Chapter 17 Narrative Research 225
Dawn Freshwater and Immy Holloway
Chapter 18 Experimental Research 237
Andrea E. Nelson, Jo Dumville and David Torgerson
Chapter 19 Surveys 255
Felicity Hasson, Hugh McKenna nad Sinead Keeney
Chapter 20 The Delphi Technique 267
Sinead Keeney
Chapter 21 Case Study Research 279
Charlotte Clarke, Jan Reed and Sarah E. Keyes
Chapter 22 Evaluation Research 291
Judith Lathlean
Chapter 23 Action Research 303
Julienne Meyer and Julie Cooper
Chapter 24 Practitioner Research 319
Bridie Kent
Chapter 25 Systematic Reviews and Evidence Syntheses 333
Andrew Booth, Angie Rees and Claire Beecroft
Chapter 26 Realist Synthesis 353
Jo Rycroft-Malone, Brendan McCormack, Kara DeCorby and Alison M. Hutchinson
Chapter 27 Mixed Methods Research 371
Joanne Turnbull and Judith Lathlean
Section 4 Collecting Data
Chapter 28 Interviewing 387
Angela Tod
Chapter 29 Focus Groups 401
Claire Goodman and Catherine Evans
Chapter 30 Questionnaire Design 413
Martyn Jones and Janice Rattray
Chapter 31 Observation 427
Jo Booth
Chapter 32 Think Aloud Technique 441
Tracey Bucknall and Leanne M. Aitken
Chapter 33 Outcome Measures 455
Peter Griffiths and Anne Marie Rafferty
Section 5 Making Sense of Data
Chapter 34 Qualitative Analysis 471
Judith Lathlean
Chapter 35 Descriptive Analysis of Quantitative Data 489
Stephen J. Walters and Jenny Freeman
Chapter 36 Examining Relationships in Quantitative Data 505
Jenny Freeman and Stephen J. Walters
Section 6 Putting Research into Practice
Chapter 37 Disseminating Research Findings 527
Kate Gerrish
Chapter 38 Evidence-Based Practive 541
Kate Gerrish
Chapter 39 Translating Research Findings into Practice 555
Kate Gerrish
Chapter 40 Future Trends in Nursing Research 571
Kate Gerrish and Judith Lathlean
Glossary 583
Index 591
7th edition of a successful, established and internationally renowned textbook
Includes a brand new chapter on using new technologies in nursing research, ie social networking, video, new survey methods etc.
More practical in style and approach, with sign-posting throughout the book, a 'how to use this book' section, and a more accessible text design 
New chapter on 'Taking Research Forward'
More practical guidance throughout, with exercises, activities, reflective questions, and practical research examples
Several more international contributors on board to further increase the book's international appeal
Fully updated references and research examples throughout
Fresh perspectives/revamps of several chapters, looking at new and developing subjects in the field
An enhanced companion website, providing further additional support to both students and lecturers.