The Resources of Critique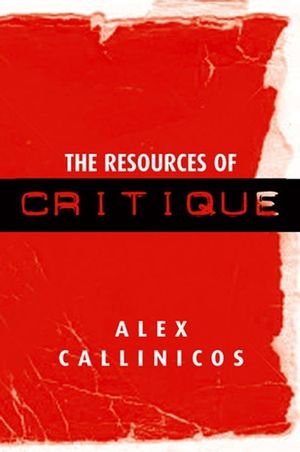 The Resources of Critique
ISBN: 978-0-745-63160-8 April 2006 Polity 328 Pages
Description
Social criticism has enjoyed a renaissance in the past few years. The anti-globalization protests at Seattle and Genoa and the great marches against the war in Iraq have put contestation of capitalism and imperialism back on the political and intellectual agenda. But how does social critique situate itself philosophically today, after the marginalization of Marxism and the impact of postmodernism? In The Resources of Critique, Alex Callinicos seeks to address this question systematically. He does so, in the first part, by surveying some of the most influential contemporary critical theorists Alain Badiou, Jacques Bidet, Luc Boltanski, Pierre Bourdieu, Eve Chiapello, Jürgen Habermas, Antonio Negri and Slavoj Žižek.

The limitations of all these theorists perspectives prompts Callinicos in the second part of the book to outline an alternative approach whose main elements are a critical realist ontology, a Marxist theory of social contradiction, and an egalitarian conception of justice. The main thrust of his argument is to show that Marx's critique of political economy remains inescapable for anyone seeking to challenge the existing world order but only if it maintains an open but rigorous dialogue with other critical perspectives. The Resources of Critique is, above all, a contribution to this dialogue.
Introduction
Part I: Four Kinds of Impasse
1. Modernity and its Promises: Habermas and Bidet
1.1 Between sociological suspicion and the rule of law: Jürgen Habermas
1.2 With and against Marx and Rawls: Jacques Bidet
2. Between Relativism and Universalism: French Critical Sociology
2.1 Capitalism and its critiques: Boltanski and Chiapello
2.2 The dialectic of universal and particular: Pierre Bourdieu
3. Touching the Void: Badiou and Žižek
3.1 The exception is the norm
3.2 Miracles do happen: the ontology of Alain Badiou
3.3 Unreal: Slavoj Žižek and the proletariat
4. The Generosity of Being: Antonio Negri
4.1 All is grace
4.2 Negri's Grundrisse: revolutionary subjectivity versus Marxist 'objectivism'
4.3 The refusal of transcendence
Part II: Three Dimensions of Progress
5. A Critical Realist Ontology
5.1 The story so far
5.2 Dimensions of realism
6. Structure and Contradiction
6.1 Realism about structures
6.2 The primacy of contradiction
6.3 A dialectic of nature?
7. Justice and Universality
7.1 From fact to value
7.2 Equality and well-being
7.3 Why equality matters
8. Conclusion
"Sharp, lucid and wide-ranging,
The Resources of Critique
subjects modern political theory to the test of a robust materialism, and in doing so constitutes a vital contribution to such a theory in its own right."
Terry Eagleton, University of Manchester


Major new book by one of Britain's leading radical thinkers

Provides a critical introduction to the major figures in contemporary social and political thought, from Habermas and Rawls to Zizek and Negri

Moves from the analysis of thinkers to a new account of core themes such as justice, equality and universality

Makes a cutting-edge contribution to social theory for students of social and political thought, politics and sociology