The Respectful Leader: Seven Ways to Influence Without Intimidation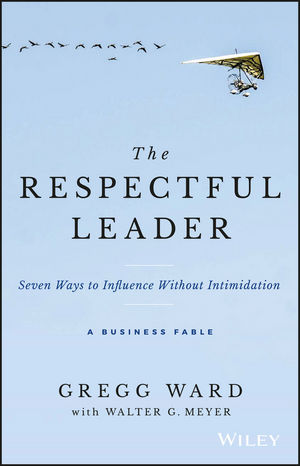 The Respectful Leader: Seven Ways to Influence Without Intimidation
ISBN: 978-1-119-28156-6
Aug 2016
144 pages
Product not available for purchase
Description
Boost morale and productivity by leading with respect
The Respectful Leader presents an engaging, thought-provoking lesson for companies seeking off-the-charts performance. Author Gregg Ward draws on 25 years of leadership consulting, coaching and training experience to reveal the secret to great results: respect. In this true-to-life business fable, he shares the story of Des Hogan, a CEO who discovers that disrespectful behavior on the part of his leadership team is eating away at his company's morale, productivity, and profits. At a loss for a solution, he meets Grace—a straight-shooting, self-described "little old lady" in the maintenance department. With her no-nonsense advice, he sets out to revamp the culture and turn his company around; but first, he has to turn inward and realize that his own behavior sets the tone for the company at every level. This enlightening, engaging and honest story will help you recognize and analyze your own behaviors and interactions, and show you how to create a winning culture based on leading with respect.
Intimidation, micro-management and insecurity do not drive top-level performance. True success is built on free-flowing, trusted, and open collaboration between departments, levels, and specialties. This book shows you how to build respect among the ranks—from the top down.
Learn the key respectful leadership behaviors that significantly impact morale
Learn how to adjust your own, and others', attitudes to boost productivity, teamwork, and profits
Benefit personally and professionally by leading from a place of mutual respect and consideration
People perform best when they feel valued and valuable. And, when they are respected for their experience, talents and skills, they'll become personally invested in outcomes—both short- and long-term—and consistently go the extra mile. Respectful leadership ignites passion, innovation, creativity, and efficiency, while control-based leadership and intimidation breeds complacency and mediocrity. Which environment would better serve your company? The Respectful Leader shows you how to achieve sustainable success with a simple behavioral paradigm shift.
Introduction
Chapter One Settling In
Chapter Two Meeting the Team
Chapter Three Buying Time
Chapter Four Feeling The Heat
Chapter Five Commanding and Controlling
Chapters Six Seeing Respect in Action
Chapter Seven Trying a Different Strategy
Chapter Eight Causing Alarm
Chapter Nine Apologizing
Chapter Ten Turning It Around at Home
Chapter Eleven Turning It Around at Work
Chapter Twelve Grace's Gift
Chapter 13 Summary and Overview
Chapter 14 Concepts, Tools, and Techniques
Brief Questions & Answers About Respectful Leadership
The Seven RespectfulDos Explained
The Five RespectfulDon'ts
Chapter 15 A Deeper Dive into Respect & Disrespect
The Two Types of Respect/Disrespect
Respect & Trust Go Hand in Hand
Chapter 16 Final Thoughts
Acknowledgements
About the Authors
Additional Resources
"Gregg Ward knows that common sense in the workplace is not necessarily common practice. Read The Respectful Leader and learn how the simple act of treating others with respect can transform individuals, departments, and organizations for the greater good."
Ken Blanchard, Co-Author, The New One Minute Manager® and Collaboration Begins with You

"Gregg Ward's incredible sense of respect and appreciation for supporting others through listening and motivating provide him a premier point of expertise in identifying the essential skills every leader should exercise to become more effective."
Nina Tassler, Advisor and Former Chairman, CBS Entertainment

"A great, true-to-life story that's full of people (and straightforward lessons) that show how any leader can succeed without being a jerk.
Cynthia Burnham, Author, The Charisma Edge: A How-To Guide for Turning On Your Leadership Power

"Being treated with dignity, fairness, and respect should be the inalienable right of every employee. Gregg Ward provides vital insights that help leadership deliver on the promise at all levels of the organization."
Kenneth Freeman, Allen Questrom Professor and Dean, Boston University Questrom School of Business

"A significant part of being a truly conscious capitalist means understanding, valuing and respecting people as full human beings. This means practicing Respectful Leadership. Through this highly readable and engaging fable, Gregg Ward conveys powerful yet simple concepts and skills that can transform organizational cultures and elevate our work and personal lives. The human and business case for Respectful Leadership is crystal clear."
Raj Sisodia, Professor, Babson College; Co-Founder & Co-Chairman of the Board, Conscious Capitalism; Author, Firms of Endearment: How World-Class Companies Profit from Passion and Purpose

"Few business leaders appreciate that respect is the foundation of any high-performing organization. With respectful leadership, all of the other leadership tools and techniques are effective; without it, they all break down. Gregg Ward is the guru of respect and he nails it in this powerful, engaging and useful fable."
John N. Kohut, Chief Operating Officer, Orison

"If you want to keep the Millennials, treat them with respect! Ward's terrific book shows you exactly how."
Frank C. Ginsberg, Founding Chairman and CEO, AFG


"This intriguing story clearly illuminates one of the biggest challenges in today's workplace – the overwhelming lack of respect by people at all levels, and particularly by leaders. But, it doesn't have to be this way! Being a respectful leader is simple – if you reach back and remember the lessons your parents taught you about how to treat other people, then you're half way there. Ward's book provides a useful framework and easy-to-follow guidelines that will take you the rest of the way. The Respectful Leader will help you to change your culture, change your company and even change yourself."
Milton N. Green, Jr., SPHR, Director of People & Culture, Renovate America

"Ward skillfully summarizes the importance of strong interpersonal relations – so often underappreciated - in the workplace. His story makes it crystal clear how taking the time to improve your skills at respect effects not only the bottom line, but also your staff's loyalty, commitment and enthusiasm."
Eric Cornwell, M.D., Physician HR, Satisfaction & Diversity, The Kaiser Permanente Medical Group

"A powerful and impactful read! Best business parable I've read since 'Death by Meeting.' With practical and easily remembered rules of the respectful road, Gregg Ward provides all the information you need to create an environment of trust, teamwork and high performance, both in your business and for your family."
Joseph C. Adan, Public Sector Department Head, Captain, U.S. Navy (Retired)

"The Respectful Leader is a refreshing antidote to what's wrong in today's rude, rushed, and me-first workplace, and a practical guide for those who want to create a civil and courteous culture."
Christopher Witt, Author, Real Leaders Don't Do PowerPoint

"The Respectful Leader offers great, practical insights and techniques on to how to build a respectful – and successful - organization."
Christopher Aaron, Director, Comcast Corporation

"Ward is right on target with The Respectful Leader. Finally, an easy-to-read and incredibly useful book on the real power of respect and respectful leadership."
Phil Dixon, Founder and CEO, Academy of Brain-based Leadership

"The Respectful Leader is a clever and practical book; a must read for anyone who is a leader as well as anyone who trains or coaches leaders. The examples that Ward uses for building respect within your company will hit home for anyone who reads this compelling book."
Sally Daniel, President and CEO The Sally Daniel Training Group, Inc.


"Respectful leadership is a business imperative for building a trust-based, collaborative and effective organization. This book is extremely useful for leaders who want to set an overall tone of respect, as well as to mentor and coach their staff. A great read."
Robert J. Makar, Partner (ret.), Booz Allen Hamilton

"Extraordinarily valuable lessons in this book! They sure don't teach you this stuff in business school. The Respectful Leader is compelling and practical, while also being a quick, engaging and easy read."
Mark Schall, MA CPC, Business and Executive Coach
"This story provides a compelling, 'real-world' example of the business challenges that can result from having little or no respect in your workplace. Fortunately, Ward provides practical, easy-to-follow advice on how to turn things around. A must read for every leader!"
Catherine Mattice, Author, BACK OFF! Your Kick-Ass Guide to Ending Bullying at Work

"The greatest leaders make respectful leadership look easy - a skill often mastered through experience. This book offers valuable leadership lessons in an easy-to-read parable and provides simple methods for influencing others without intimidation. Grimace as the new CEO makes all of the classic leadership mistakes you'll never want to go through and cheer when he transforms into the respectful leader."
Matthew Rivaldi, MBA, Business Faculty, San Diego State University