The Responsibility Revolution: How the Next Generation of Businesses Will Win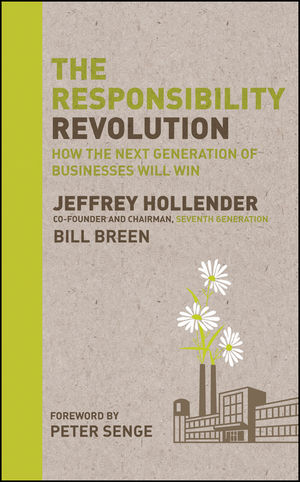 The Responsibility Revolution: How the Next Generation of Businesses Will Win
ISBN: 978-0-470-59039-3
Jan 2010, Jossey-Bass
240 pages
Description
How to create a company that not only sustains, but surpasses-that moves beyond the imperative to be "less bad" and embrace an ethos to be "all good"
From the Inspired Protagonist and Chairman of Seventh Generation, the country's leading brand of household products and a pioneering "good company," comes a one-of-a-kind book for leaders, entrepreneurs, and change agents everywhere. The Responsibility Revolution reveals the smartest ways for companies to build a better future-and hold themselves accountable for the results. Thousands of companies have pledged to act responsibly; very few have proven that they know how. This book will guide them. The Responsibility Revolution presents fresh ideas and actionable strategies to commit your company to a genuine socially and environmentally responsible business and culture, one that not only competes but wins on values.
Points the way for innovators and influencers to generate trust by becoming transparent, elicit people's passion and creativity, turn customers into collaborators, transform critics into allies, rewrite the rules and reinvent business
Shows how to build a socially and environmentally responsible yet genuinely good company and an authentic brand
Drawing on groundbreaking interviews with real-world change leaders, Hollender and Breen present lessons and insights from the "good company"' parts of big companies like IBM and eBay, trailblazers like Patagonia and Timberland, and emerging dynamos like Linden Lab and Etsy
The Responsibility Revolution equips people with the tactics, models, and mind-sets they need to compete in a world where consumers now demand that companies contribute to the greater good.
Foreword (Peter Senge).
Preface: The Responsibility Revolution: Our Manifesto.
1 The Responsibility Revolution Takes Off.
2 The Company Takes on a Mission: "Doing Work That Matters" Matters Now More Than Ever.
3 Not a Company, But a Community: A Blueprint for Unleashing People's Potential.
4 Make It Transparent: In a See-Through World, It Doesn't Pay to Be Opaque.
5 Authentically Good: Building the Mission into Every Part of the Business.
6 The Cooperative Company: Building Profits and Solving Problems Through Mass Collaboration.
7 Beyond Responsibility: The Case for Corporate Consciousness.
Epilogue.
Notes.
Acknowledgments.
About the Authors.
"While the book lays down the business case of sustainable and responsible companies succinctly, it also gives key pointers on the way leadership is set to change in the coming years. " —
CNBC.com
, April 1, 2010
"Hollender's access combined with Breen's reporting skills produce unusually detailed and thoughtful profiles." —Inc. Magazine, April 2010
"While outwardly your business is driven by your social mission, what happens inside your company is an expression of that mission as well. That means also focusing your passionate energy inward to create a fair and beneficial work environment for your employees. In his new book, The Responsibility Revolution, Hollender describes this principleas striving to be authentically good, by building the mission into every part of your business."—Inc.com, March 31, 2010
"Most companies understand that pursuing a laudable mission can amount to a land of rich opportunity. But to successfully travel the road to corporate responsibility, an enterprise must navigate around six daunting land mines…"—HuffingtonPost.com, March 15, 2010
"Entertaining and thought-provoking."—JustMeans.com, March 15, 2010
"In his new book, Jeffrey shows companies how to surpass sustainability and makes a clear case that going beyond sustainability is a competitive advantage."—CauseCapitalism.com, March 15, 2010
"Unlike many of its companions on the shelf in the business section, this book is a pleasure to read. Much of the over-used CSR jargon is absent, the authors have jettisoned 'bloodless buzzwords like 'corporate responsibility' and 'accountability' in the first steps of their revolution. The writing is vibrant, pointed, and succinct, much like the advice it imparts."—The CSR Digest, March 15, 2010
"Hollender is at his best when evangelizing and encouraging vision. He likes to tell the story of how his company came to be called Seventh Generation, quoting from the founding document of the native American Iroquois confederacy, 'In our every deliberation, we must consider the impact of our decisions on the next seven generations.' Thinking like that would truly make for a responsible—and sustainable—business revolution."—Business Ethics, March 18, 2010
"Hollender, chairman of clean household company Seventh Generation, shares his own company's process of redefining its mission and values, and makes an unimpeachable argument for how sustainable business practices protect both the environment and employees."—Publishers Weekly, March 2010
Articles, excerpts, interviews, Q&A, and mentions with the authors also from:
—Harvard Business Review blog, March 31, 2010
—Forbes.com, March 31, 2010
—CNNMoney.com, March 29, 2010
—TheDailyGreen.com, March 29, 2010
—Harvard Business Review, March 2010
"Jeffrey Hollender and Bill Breen give us the inside scoop on how truly responsible companies out-think and out-perform their conventional-minded competitors. Part manual and part manifesto, The Responsibility Revolution delivers a truckload of examples for growing a company that benefits society as well as shareholders. I only wish we had The Responsibility Revolution's real-world lessons when we launched Ben & Jerry's."—Ben Cohen, co-founder, Ben & Jerry's
"Jeffrey Hollender is a true master of the arts in unifying business with ecology. A rarity indeed, he is one who practices what he teaches."—Horst M. Rechelbacher, founder, Intelligent Nutrients
"My hat is off to Jeffrey Hollender and Bill Breen for their daring new book, The Responsibility Revolution. Drawing on their personal experiences in building the highly successful company, Seventh Generation, and on a wealth of other material, they show with force and eloquence what's required for corporations to transcend the failed promise of 'corporate social responsibility' and give real leadership in building a new economy where people and planet flourish. No more hype and platitudes, The Responsibility Revolution is the real item—a Baedeker for businesses that want to be part of a future that works."—James Gustave Speth, author of The Bridges at the Edge of the World: Capitalism, the Environment, and Crossing From Crisis to Sustainability
"The Responsibility Revolution is a welcome, hopeful, and timely road map for truly sustainable 21st-century commerce in which people and the planet actually count, and profits are the means but not the ends. Cynics beware—their optimistic analysis derives from real evidence that we may in fact be getting commerce right. Their guidance is visionary and their vision gives great guidance. This is a must-read 21st-century primer for investors, entrepreneurs, consumers, and policy-makers alike."—Gary Hirschberg, president and CE-Yo, Stonyfield Farm, Inc.
"Jeffrey Hollender and Bill Breen have collaborated to produce a remarkably detailed road map for businesses that are searching sincerely for the path to good reputation, high purpose, and deep respect. Read this book for a new clarity about the power of all three qualities, and the path to authentic realization thereof."—Ray C. Anderson, founder and chairman, Interface, Inc.