The Responsible Business: Reimagining Sustainability and Success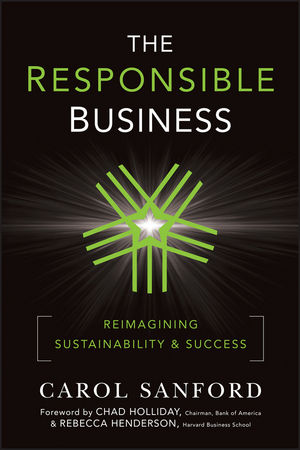 The Responsible Business: Reimagining Sustainability and Success
ISBN: 978-0-470-64868-1
Mar 2011, Jossey-Bass
368 pages
Description
"When most people think of corporate responsibility, they are focusing on a business's effect on and relationship to stakeholders. A Responsible Business sees stakeholders as full partners and meaningful instruments for the evolution of healthier communities and more successful businesses."
—from the Introduction

The Responsible Business offers a new and strategic approach to doing business that holistically integrates responsibility into all aspects of an organization, allowing for returns at every level, business and social. This book goes beyond the often well intentioned but limited attempts at sustainability to present a framework that allows organizations to bring responsibility into everything they do and re-imagine success. From innovation, product development, and production processes to business management, strategic planning, and shareholder development, the author shows how being a Responsible Business is a practical skill that can be applied day-to-day at every level of the business.

No longer just the role of a department or the job of CSR professionals, successful responsibility and business efforts start at the business level, are then taken to the corporate level, and are finally applied throughout the organization. The Responsible Business outlines a framework for building a responsibility and consciousness infrastructure that applies a living systems view to the business and inspires all of its stakeholders, including shareholders.

Throughout the book, illustrated by examples from technology to manufacturing, large and small, public and private, Sanford demonstrates how to make responsibility integral to all aspects of a business as an engine for innovation, profitability, and purpose.

Praise for The Responsible Business

"This is a very significant book. It makes it clear that businesses have a single boss with five interrelated aspects. The stories are among the crispest, most evocative case histories I have seen. The book is for any corporate leader trying to do the impossible: create a business that recreates the world."
—Art Kleiner, editor-in-chief, strategy + business, and author, The Age of Heretics

"Carol Sanford offers us a proven, practical, and systems-based approach that integrates five stakeholder groups into a business system working as an integral whole. Essential reading for leaders wanting a system framework for sustainability and business success!"
—Otto Scharmer, MIT Sloan senior lecturer; author, Theory U: Leading from the Future as it Emerges; and coauthor, Presence

"The Responsible Business challenges many assumptions corporate leaders, investment advisors, and sustainability experts have long taken for granted. It provides a road map that can help innovative businesses think about how to be truly transformational."
—Sam Ford, Fast Company expert blogger and director, Peppercom

"The powerful concepts in The Responsible Business have changed the process of sustainable development and how communities truly thrive. Indeed, these proven approaches will be the roadmap to truly achieve the deepest level of living communities."
—Bill Reed, founding member of LEED System and coauthor, The Integrative Design Guide to Green Building

"Critical for re-imagining the future of business. Rarely a day goes by that I do not call on this way of thinking and looking at the world. It is useful for taking on the big business decisions that so many of us face every day."
—Chad Holliday, chairman, Bank of America
A Foreword from the Boardroom (
Chad Holliday
).
A Foreword from Academia (Rebecca Henderson).
Acknowledgments.
Prologue: A New Business Mind.
Procter & Gamble (P&G): Responsibility Prototype.
P&G's Guiding Principles.
Bringing It Home.
Introduction: The Responsible Business'
New Problem, Old Mind'
Evolve Corporate Responsibility by Evolving Business Responsibility.
Three Forks in the Road to Responsibility.
A Framework for the Responsible Business.
From Add-on Responsibility to Full-on Responsibility.
About This Book.
About the Author.
PART ONE: THE RESPONSIBLE BUSINESS: REIMAGINING BUSINESSES OF THE FUTURE.
1 Stories from Three Continents.
Herban Feast: Caring for Customers.
Kingsford: Creating Collaboratively.
Colgate, South Africa: Localizing Identity and Destiny.
Seventh Generation: Regenerating Planetary Systems.
E. I. DuPont: Engaging Shareholder Value.
Panning for Gold.
Conclusions.
2 Stakeholders as Systemic Collaborators.
The Meaning of Stakeholder.
Stand in the Stakeholder's Shoes.
Stakeholders Affect Responsibility.
Five Key Stakeholders and Their Stakes.
Conclusions.
3 Geometry of the Responsible Business.
Systemic Stakeholder Framework.
The Logic of the Pentad.
Integrate Stakeholder Initiatives.
Conclusions.
4 Be Value-Adding, Not Value-Added.
Value-Added Is Not Value-Adding.
Energize Caring Through Value-Adding Processes.
Five Stakeholder Imperatives.
Conclusions.
5 Making the Responsible Business Pentad Work.
Revolutionizing Business Models: Red Hat.
From Commodity to Nondisplaceability: Kingsford.
Deeply Connect to Your Customer: Herban Feast.
Mission-Driven Meets Future-Proof: Seventh Generation.
Change the World by Changing the Business: Colgate, South Africa.
Conclusions.
PART TWO: MAKING I T WORK: THE MAP TO THE TERRITORY.
6 Teaching an Organization to Star.
Retrofi t an Existing Business.
Reverse Phases for a Start-up Responsible Business.
Conclusions.
7 Nonhierarchical Decision Making.
Hierarchical Management Is Irresponsible.
Self-Organizing Decision Making Is Responsible.
Four Self-Organizing Capabilities.
Conclusions.
PART THREE: IRRESPONSIBILITY HAPPENS: REFRAMING HOW CHANGE WORKS.
8 Responsibility Running Backward.
Running Faster in the Wrong Direction.
A 360-Degree Business Perspective.
Make Something for Someone.
From Backward to Forward Spin.
Conclusions.
9 Our Own Worst Enemies: Turning People Around.
Brain Works.
Three-Brained Decision Making.
Triad of Mental Frames.
Familiarity Is the Enemy of Creativity.
Incentives Narrow the Mind.
Narrower Frames of Reference Cause the Pentad to Spin Backward.
Leading from the Purposeful Mental Frame.
Personal Development and Critical Thinking Skills.
Conclusions.
10 Cautionary Tales: Design for Prevention and Cure.
Six Common Hazards.
An Ounce of Prevention.
Conclusions.
PART FOUR: THE BIG PICTURE OF RESPONSIBILITY.
11 A Responsible View of Capital.
Stakeholder Return on Investment (ROI).
Conclusions.
12 Assessing Responsibility.
Systemic Responsibility Indicators.
Conclusions.
13 The Future of Responsibility.
Getting from Here to There.
Alternative Business Approaches.
Responsible Investing Within the Current Legal Framework.
Conclusions.
Epilogue: Developing Capability for Responsibility.
Three Capabilities Underlying Responsibility.
A Final Refl ection.
Notes.
Index.