The Restoration: England in the 1660s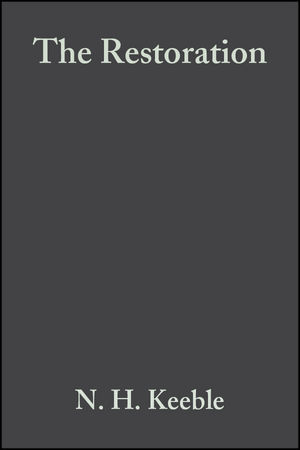 The Restoration: England in the 1660s
ISBN: 978-0-631-23617-7 October 2002 Wiley-Blackwell 292 Pages
Description
This cultural history challenges the standard depiction of the 1660s as the beginning of a new age of stability, demonstrating that the decade following the Restoration was just as complex and exciting as the revolutionary years that preceded it.
Preface.
List of Abbreviations.
A Note on Conventions, Procedures and Dates.
Introduction.
1. The Return of the King (1658–60):.
The Fall of the Protectorate (September 1658 – April 1659).
The Rump Restored (May – September 1659).
Don Juan Lamberto(October – December 1659).
The Long Parliament Restored (January – March 1660).
Monarchy Restored (April – May 1660).
2. The Restoration Year (1660-61):.
'Past all humane policy'.
The Royal Martyr.
'A time of universal festivity & joy'.
Restoration or Revolution?.
Executions and Exhumations.
3. Great Zerubbabel: Charles and the Convention (1660):.
Images of the King.
'Our good old Form'.
The Declaration of Breda.
The Act of Oblivion.
The Convention Settlement.
4. Royal Servants: Clarendon and the Cavalier Parliament (1661–67):.
Court and Country.
The Cavalier Settlement.
'The fat Scriv'ner'.
The Costs of War.
'The old man's going away'.
5. Fathers in God: the Church of England:.
The Worcester House Declaration.
The Act of Uniformity.
Comprehension, Indulgence and the Clarendon Code.
Laudians and Latitude-men.
Giant Pope.
6. 'The patience of heroic fortitude': nonconformity, sedition and.
dissent:.
'Fall'n on evil days': Milton and Bunyan.
The experience of persecution.
Nonconformist culture.
The Licensing Act and the press.
Radicals, republicans and plotters.
7. 'Luxury with Charles restor'?: the temper of the times:.
'A yeare of prodigies'1665–66).
'Things going to wrack'.
The Cabal (1667–70).
Porno-politics.
A la mode.
8. 'Male and female created he them':.
Men and Women.
The Weaker Vessel.
'An honourable estate'.
A Woman's Place.
Men of the World.
Afterword.
Notes.
Index.


Challenges the standard depiction of the 1660s as the beginning of a new age of stability.


Presents the Restoration as a process rather than an event.


Demonstrates that the 1660s were multi-faceted, dynamic and exciting.


Offers a topic-based cultural history, rather than a straightforward chronological account.


Uses contemporary accounts, allowing readers to hear the voices of the age speak in their own words.