The Retail Doctor's Guide to Growing Your Business: A Step-by-Step Approach to Quickly Diagnose, Treat, and Cure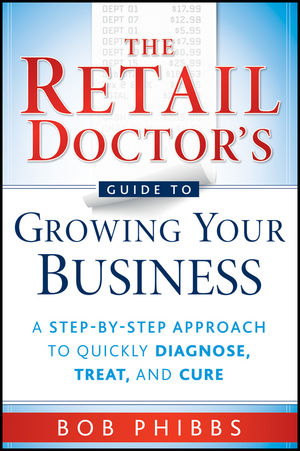 The Retail Doctor's Guide to Growing Your Business: A Step-by-Step Approach to Quickly Diagnose, Treat, and Cure
ISBN: 978-0-470-58717-1
May 2010
272 pages
Description
It's one of the toughest economies in years, but don't fear-the doctor is in
Are you among the thousands of retailers frustrated by market challenges and looking for ways to take control of your business? Are you looking for the advice of an expert consultant, but unable to spend the money? Then The Retail Doctor's Guide to Growing Your Business is for you.
By providing a step-by-step approach to evaluate your current business practices, The Retail Doctor offers professional guidance

Redesign your organizational structure
Reap the maximum returns on your investment
Keep your business financially healthy
Following the advice in these pages will help you devise a sound strategy to accomplish your goals and outperform your competitors. You'll also gain clear insight into all areas of human resource management, sales training, merchandising methods, and marketing.
While your competitors are looking for a magic bullet to solve their problems, with The Retail Doctor's Guide to Growing Your Business, you can be making changes that will guarentee enormous returns and financial success.
Acknowledgments.
Introduction: What's Ailing You?
Chapter 1. Financials Are the Vital Signs to Measuring Your Success.
Chapter 2. The Anatomy of Successful Retail Store.
Chapter 3. The Right Employees Are Your Most Important Asset – How to Hire Right.
Chapter 4. Sell It or You're Dead.
Chapter 5. Clone Yourself to Train Effectively.
Chapter 6. Building and Coaching Your Team.
Chapter 7. What You Don't Know about the Web Could Kill You.
Chapter 8. It's Up to You Now.
The 13 Steps to Being a Top Salesperson.
About the Author.
Index.