The Revenge of God: The Resurgence of Islam, Christianity and Judaism in the Modern World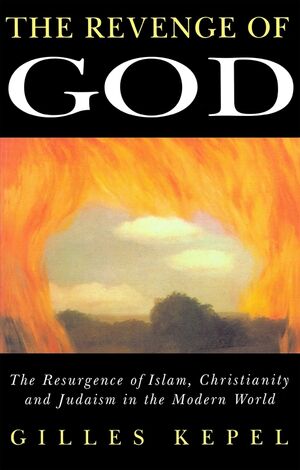 The Revenge of God: The Resurgence of Islam, Christianity and Judaism in the Modern World
ISBN: 978-0-745-61269-0
Jan 1994, Polity
224 pages
Description
The Revenge of God is a compelling account of the resurgence of religious belief in the modern world. Kepel compares Islam, Christianity and Judaism revealing the similarities between all three religions and uncovering a hidden and often disturbing reality.
Acknowledgements.
Introduction.
1. The Sword and the Koran.
2. Mission Field Europe.
3. Saving America.
4. The Redemption of Israel.
5. Conclusion: Reconquering the World.
Index.
'The Revenge of God
is truly eye-opening. It may well change the way we think of the direction our world is going.'
Zygmunt Bauman, University of Leeds
'Kepel has provided the reader with a clear and competent introduction to the subject.' The Sunday Times

'Well researched and enlightening.' The Guardian

'This is an important contribution to background knowledge, for those seriously interested in what the new religious vigour is about...' The Times

'A good and interesting read.' Times Higher Education Supplement

'Excellent.' New Statesman and Society

'A challenging and provocative book.' Reviews in Religion and Theology

'A thoroughly-researched and intelligently-written guide to three major expressions of modern religious fundamentalism ... Kepel's study is intelligent and informative, and the overall effect is harmonious.' New Humanist

'A challenging and provocative book.' Reviews in Religion and Theology

'Kepel's work will attract readers' attention from all levels of life. I strongly urge every student of religion, political science, and history to read this book. It is destined to become a classic of its kind.' Journal of Ecumenical Studies

'French expert on Islamic extremism, Gilles Kepel ... indicates that Islamic extremism is not primarily the result of alienation, marginalisation, or global inequality (which is the view of modernisation theory). It is a response to a widespread crisis in secular materialism in both the West and the Third World.' Church Times
* This book has strong trade potential; it has sold 60,000 hardback in France; 15,000 in Germany; 12,000 in Italy; 6,000 in Spain. There were more than 200 reviews in French.
* Gilles Kepel is one of the leading European authorites on Islamic societies.
* This is an extremely topical book on the rise of religious fundamentalism in recent years.