The Rich and Famous Money Book: Investment Strategies of Leading Celebrities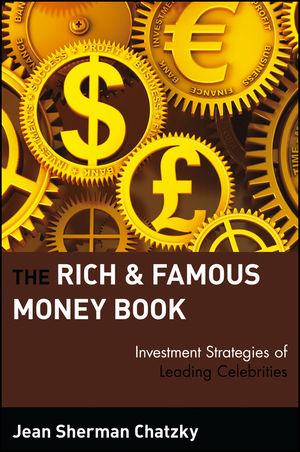 The Rich and Famous Money Book: Investment Strategies of Leading Celebrities
ISBN: 978-0-471-32707-3
Mar 1999
224 pages
Description
"This book is an incredibly fun read. The style is a lot of People magazine, with a little Smart Money magazine thrown in for good measure."-Detroit Free Press

"Americans have ample role models for how to spend money, but too few on how to save and invest it. Jean Chatzky's new book may change that, however. By showing us how celebrities have incorporated financial decision-making into their lives, this book sends a powerful and valuable message that investing is something that all of us can, and indeed should, do."-Don Phillips President, Morningstar, Inc.

"Jean has revealed the true innermost secrets of the '90s-how accomplished people make, spend, and invest their money. A good read and great advice all in one."-Donna Hanover broadcast journalist and First Lady of the City of New York

"A book that shows the rich and famous have money problems, too, and how we can avoid them. Jean Chatzky makes learning how to save like the rich and famous lots of fun!"-Al Roker NBC Today
The Stock Junkies: Mike Ditka, Don Slaught, Jim Lovell.

The Risk-Averse: Nicole Miller, Matt Lauer, Alan Dershowitz.

The Real Estate Moguls: Dave Barry, Jeff Blake.

The Gurus: Alan C. "Ace" Greenberg, Lou Dobbs, Charles Schwab.

The Entrepreneurs: Dave Thomas, Lillian Vernon, Charlie Trotter.

The Venture Capitalists: Jim Clark, Walter Payton, David Brenner.

The Rebounders: Dennis Rodman, Olivia Goldsmith, Ivana Trump.

The Partners: Helen Gurley and David Brown, Ken and Daria Dolan, Susan Feniger and Mary Sue Milliken.

The Collectors: Raoul Felder, Emeril Lagasse.

Index.
". . . this book is an incredibly fun read. The style is a lot of People magazine, with a little SmartMoney magazine thrown in for good measure."-Detroit Free Press

". . . a breezy, well-researched look at the investment strategies of the you-know-who."-USA Weekend