The Riddle: Where Ideas Come From and How to Have Better Ones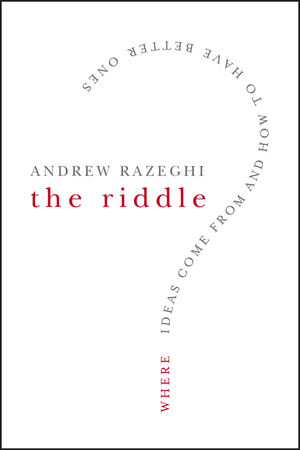 The Riddle: Where Ideas Come From and How to Have Better Ones
ISBN: 978-0-470-22912-5
Jan 2008
256 pages
Description
While organizations claim to value creativity, they are often at a loss when attempting to conjure up novel ideas, particularly in a world where technology has made information readily available to everyone. As a result, leaders ask, ""Where will the next big idea come from?"" In response, they allocate significant resources for innovation; however the source of creative inspiration has remained a mystery.

Science has shown that it's possible to create conditions under which the mind is more prepared to have insights, or ""a-ha! moments."" In this fascinating book, Andrew Razeghi examines the precursors to creative insight and offers clear-cut methods for making ""Eureka moments"" routine practice rather than lucky accidents. Combining the latest scientific research, interviews with current innovators, and studies of history's most creative minds, he dissects the creative process and presents a practical approach for inspiring innovation.
Introduction: The Innovation Lament.
1. The Innovation Intent.
2. The Gods Must Be Crazy (Or Is It Just Me?)
3. The Eureka Moment.
4. It Came to Me in a Dream.
5. In the Mood for Innovation.
6. Endlessly Intriguing: Curiosity.
7. Painfully Obvious: Constraints.
8. Distantly Related: Connections.
9. Diametrically Opposed: Conventions.
10. Suddenly Brilliant: Codes.
Epilogue: And So It Is with All Things New.
Notes.
Further Reading.
Acknowledgments.
The Author.
Index.
Voted a Smart Book for 2008 by
Fast Company
""Razeghi's self-help text is designed to assist the everyday genius in finding those 'ah-ha' ideas like those Albert Einstein and Thomas Edison came across in the past. Razeghi presents his thoughts in a straightforward, user-friendly manner."" --Publishers Weekly, February 25, 2008