The Right Leader: Selecting Executives Who Fit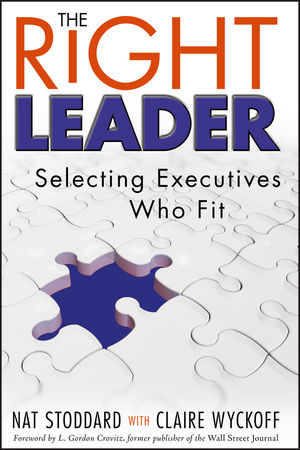 The Right Leader: Selecting Executives Who Fit
ISBN: 978-0-470-52773-3
Apr 2009
352 pages
Description
A trailblazing approach to choosing executives who both match the needs and fit the cultures of the organizations they will lead

Leadership failures damage or even destroy companies every day. To reduce the costs of leadership failure, the author has developed a revolutionary process for selecting executives based on his years of consulting for some of America's largest corporations. The Right Leader details this new approach and how it eliminates the leadership failures that plague so many companies around the world today. When executives don't address the right needs, or can't lead the organization because of a poor fit with the corporation's cultures, the company loses competitive advantage, talented people, and momentum. The Right Leader introduces the revolutionary Match-Fit Model and explains how it reduces the risks and costs of executive failure by changing the factors that are considered and by taking into account the cultural dynamics at play in any organization.

Nat Stoddard (New York, NY) is Chairman of Crenshaw Associates, a New York-based consulting firm specializing in career and transition management for senior executives. Claire Wyckoff (New York, NY) is an accomplished writer and editor, who has held executive positions in both the corporate and nonprofit sectors.
List of Illustrations.
Foreword.
Acknowledgments.
Preface: The Why's and Wherefore's Behind This Book.
1. Introduction.
Part One: The New Paradigm For Leadership Selection.
2. Design for a New Selection Model.
3. The Abilities Bucket.
4. The Personality and Energy Bucket.
5. The Character Bucket.
6. The Company's Needs.
7. Corporate Culture.
Part Two: Fixing A Flawed Selection Process.
8. The New Hiring Process— "Hit My Smoke!"
9. Changing the Way Candidates Are Vetted.
10. The Missing Links to Selecting the Right Leader.
11. The FAC Process at Work: The Case of SDI, Inc.
12. Putting It All Together—A Recipe for Success.
Part Three: Conclusion.
13. Why Boards Should Care.
14. "You're Cleared in Hot".
Notes.
Appendix A. Assessment Tools Matrix.
Appendix B. Cross-Cultural Virtues.
Appendix C. Book Figures.
Bibliography.
Index.