The Rise and Rise of Meritocracy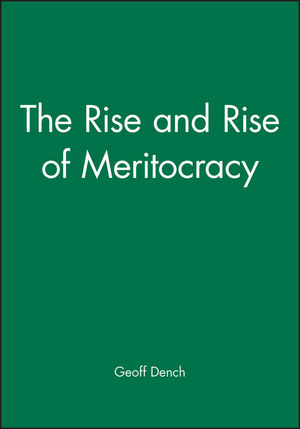 The Rise and Rise of Meritocracy
ISBN: 978-1-405-14719-4 February 2007 Wiley-Blackwell 284 Pages
Description
Fifty years after the term "meritocracy" was coined, this book asks where the idea of meritocracy has led.


A team of commentators consider diverse topics such as family and meritocracy, meritocracy and ethnic minorities, and what is meant by talent


Contains commentaries by a selection of researchers, activists and politicians, from Asa Briggs to David Willetts, on the origin, meaning and future of meritocracy


Demonstrates that Michael Young, who wrote The Rise of the Meritocracy, was right to question the viability of political systems trying to organise themselves around the idea of meritocracy


Essential reading for everyone interested in where we are going, and the future of New Labour itself
Table of contents
Acknowledgements.
Notes on Contributors.
Introduction: Reviewing Meritocracy: Geoff Dench.
Part I: Origin and reception.
The Labour Party as crucible: Asa Briggs.
Meritocracy in the civil service, 1853-1970: Jon Davis.
A tract for the times: Paul Barker.
We sat down at the table of privilege and complained about the food: Hilary Land.
The chequered career of a cryptic concept: Claire Donovan.
Looking back on Meritocracy: Michael Young.
Part II: Relevance to modern Britain.
A brief profile of the new British establishment: Jim Ogg.
Face, race and place: Merit and ethnic minorities: Michelynn Laflèche.
Marginalised young men: Yvonne Roberts.
The unmaking of the English working class: Ferdinand Mount.
Age and inequality: Eric Midwinter.
Ship of state in peril: Peregrine Worsthorne.
Part III: Analytic value.
The moral economy of meritocracy: Irving Louis Horowitz.
Japan at the meritocracy frontier: From here, where?: Takehiko Kariya and Ronald Dore.
Just rewards: Meritocracy fifty years later: Peter Marris.
What do we mean by talent?: Richard Sennett.
Resolving the conflict between family and meritocracy: Belinda Brown.
Meritocracy and popular legitimacy: Peter Saunders.
Part IV: The future.
The new assets agenda: Andrew Gamble and Rajiv Prabhakar.
New Labour and the withering away of the working class?: Jon Cruddas.
A delay on the road to meritocracy: Peter Wilby.
Putting social contribution back into merit: Geoff Dench.
Ladder of opportunity or engine of inequality?: Ruth Lister.
The future of meritocracy: David Willetts.
Chapter notes.
Bibliography.
Notes on Contributors.
Index.
What's New


A team of commentators consider diverse topics such as family and meritocracy, meritocracy and ethnic minorities, and what is meant by talent

Contains commentaries by a selection of researchers, activists and politicians, from Asa Briggs to David Willetts, on the origin, meaning and future of meritocracy

Demonstrates that Michael Young, who wrote The Rise of the Meritocracy, was right to question the viability of political systems trying to organise themselves around the idea of meritocracy

Essential reading for everyone interested in where we are going, and the future of New Labour itself