The Road Out of Debt + Website: Bankruptcy and Other Solutions to Your Financial Problems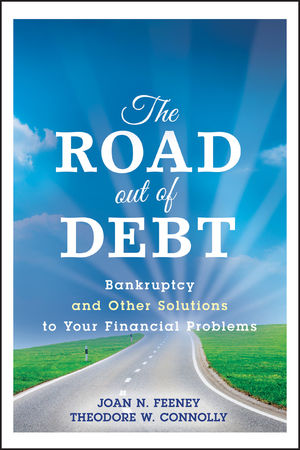 The Road Out of Debt + Website: Bankruptcy and Other Solutions to Your Financial Problems
ISBN: 978-0-470-49886-6
Aug 2010
385 pages
Description
A practical guide to getting out of debt and understanding the option of personal bankruptcy
The current credit and financial crises have prompted Joan Feeney, a preeminent Massachusetts Bankruptcy Judge, and Theodore Connolly, a Finance and Bankruptcy Attorney, to write a book that will help people handle their financial troubles. The Road Out of Debt seeks to assist those considering bankruptcy by demystifying the bankruptcy process and explaining what you can expect to gain (or lose) from it.
With the insights of both a bankruptcy judge and a bankruptcy lawyer, you'll be able to determine when it's best to avoid bankruptcy, when you should seek bankruptcy protection, and, most importantly, how best to work through the bankruptcy process, if you so choose. With millions of Americans personally facing dire financial situations, job losses, home foreclosures, and other major financial challenges, no book could be more timely.
An exceptional resource for anyone contemplating bankruptcy or otherwise trying to figure out how to handle their debt
Puts the bankruptcy process in perspective and reveals specific steps to follow
Discusses how to decide whether or not bankruptcy is the right path for you
Written by a well-respected bankruptcy judge and bankruptcy attorney
As more people find themselves entering financial difficulties, an increasing number of them will need information to help them through these problems. The Road Out of Debt provides you with the serious solutions needed to overcome a personal financial crisis.
Foreword.
Acknowledgments.
Preface.
Introduction.
Part I: A Road Map to Debt Relief.
Chapter 1: Getting Started.
Chapter 2: Negotiating Your Way Out of Debt.
Chapter 3: Fighting Back.
Chapter 4: Budgeting Your Way Out of Debt.
Chapter 5: The Danger of Quick Fixes.
Chapter 6: Debt Counselors: How to Tell the Sheep from the Wolves.
Part II: Finding Your Way Using Non-Bankruptcy Solutions.
Chapter 7: The Way Out of Credit Card, Medical, or Student Loan Debt.
Chapter 8: Foreclosure Basics and Rescue Scams.
Chapter 9: Sizing Up Your Mortgage Debt.
Chapter 10: The Way Out of Mortgage Debt.
Chapter 11: The Way Out of Auto Debt.
Chapter 12: The Way Out of Tax Debt.
Part III: When to Take the Bankruptcy Route.
Chapter 13: Is Bankruptcy Right for You?
Chapter 14: 21 Bankruptcy Myths.
Chapter 15: Overview of Bankruptcy Types.
Chapter 16: Understanding the Bankruptcy Process.
Part IV: Road Trips: 6 Case Studies in Bankruptcy.
Chapter 17: Two Trips through Chapter 7 Bankruptcy.
Chapter 18: Two Trips through Chapter 13 Bankruptcy.
Chapter 19: A Trip through Chapter 11 Bankruptcy.
Chapter 20: A Trip through Chapter 12 Bankruptcy.
Conclusion: The Road Worth Taking.
Appendix A: Helpful Resources.
Appendix B: Bankruptcy FAQs.
Notes.
Glossary.
About the Authors.
Index.