The Role of Peer Groups in Adolescent Social Identity: Exploring the Importance of Stability & Change: New Directions for Child and Adolescent Development, Number 84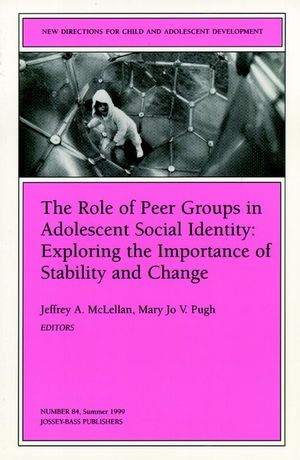 The Role of Peer Groups in Adolescent Social Identity: Exploring the Importance of Stability & Change: New Directions for Child and Adolescent Development, Number 84
ISBN: 978-0-787-91251-2
Jun 1999, Jossey-Bass
94 pages
Description
This volume of New Directions for Child and Adolescent Development enhances our knowledge of the adolescent peer world in terms of both interpersonal relationships and social categories. Using diverse research questions, samples, and methodology, the authors shed light on an array of questions about adolescent social life, including: How changeable is peer group influence over time? Do adolescents identify with the crowd to which they are classified by their peers, or do they identify more closely with higher status crowds? How do adolescents form alternative groups that resist the cultures of the dominant peer group? Does having a sibling or dating partner make a difference in other relationships? The chapters illustrate the crucial role that peer relationships play in identity formation, and demonstrate the importance of viewing the peer world as a dynamic and changeable place.

This is the 84th issue of the quarterly journal New Directions for Child and Adolescent Development.
1. Identity Claims and Projections: Descriptions of Self and Crowds in Secondary School (Margaret R. Stone & B. Bradford Brown).
2. From "Headbangers" to "Hippies": Delineating Adolescents' Active Attempts to Form an Alternative Peer Culture (David A. Kinney).
3. Adolescent Crowd Orientations: A Social and Temporal Analysis (Darcy L. Strouse).
4. Identity development and Peer Group Participation (Mary Jo V. Pugh & Daniel Hart).
5. The Contextual Influences of Sibling and Dating Relations on Adolescents' Personal Relations with Their Close Friends, Dating Partners, and Parents: The Sullivan-Piaget-Hartup Hypothesis Considered (Brian J. Bigelow, et al.).