The Roman Empire in Context: Historical and Comparative Perspectives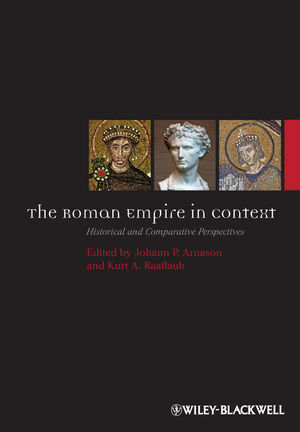 The Roman Empire in Context: Historical and Comparative Perspectives
ISBN: 978-1-444-39020-9 December 2010 Wiley-Blackwell 432 Pages
Description
Through a series of original essays by leading international scholars, The Roman Empire in Context: Historical and Comparative Perspectives offers a comparative historical analysis of the Roman empire's role and achievement and, more broadly, establishes Rome's significance within comparative studies.
Fills a gap in comparative historical analysis of the Roman empire's role and achievement
Features contributions from more than a dozen distinguished scholars from around the world
Explores the relevance of important comparativist themes of state, empire, and civilization to ancient Rome
Notes on Contributors.
Series Editor's Preface.
1 Introduction (Johann P. Arnason).
Part I Expansion and Transformation.
2 From City-State to Empire: Rome in Comparative Perspective (Kurt A. Raaflaub).
3 The Transition from Republic to Principate: Loss of Legitimacy, Revolution, and Acceptance (Egon Flaig).
4 Strong and Weak Regimes: Comparing the Roman Principate and the Medieval Crown of Aragon (D. A. Cohen and J. E. Lendon).
Part II Late Antiquity: Division, Transformation, and Continuity.
5 The Background to the Third-Century Crisis of the Roman Empire (Adam Ziolkowski).
6 The End of Sacrifice: Religious Mutations of Late Antiquity (Guy G. Stroumsa).
7 Contextualizing Late Antiquity: The First Millennium (Garth Fowden).
Part III Destinies of the Roman Legacy.
8 The Franks: Rome's Heirs in the West (Matthias Becher).
9 The End of Rome? The Transformation of the Eastern Empire in the Seventh and Eighth Centuries CE (John Haldon).
10 The First Islamic Empire (Chase F. Robinson).
Part IV Comparative Perspectives.
11 From City-State to Empire: The Case of Assyria (Mario Liverani).
12 China's Early Empires: The Authority and Means of Government (Michael Loewe).
13 The Legs of the Throne: Kings, Elites, and Subjects in Sasanian Iran (Scott McDonough).
14 The King of Kings: Universal Hegemony, Imperial Power, and a New Comparative History of Rome (Peter Fibiger Bang).
Part V Conceptual and Theoretical Reflections.
15 The Roman Phenomenon: State, Empire, and Civilization (Johann P. Arnason).
16 Roman–European Continuities: Conceptual and Historical Questions (Peter Wagner).
General Index.
Index of Sources (selective).
"Summing Up: Recommended. Graduate students/faculty." (Choice, 1 November 2011)