The Romans in the Age of Augustus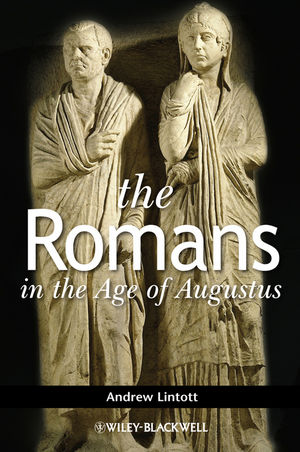 The Romans in the Age of Augustus
ISBN: 978-1-444-31932-3 December 2009 Wiley-Blackwell 216 Pages
Description
Incorporating the most recent scholarship, this book offers a fascinating history of Rome and the Roman peoples during the rule of the first Roman emperor, Augustus.
Written in an easily accessible style, making it the ideal introduction to Augustan Rome for those with little previous knowledge
Offers compelling insight into the workings of Roman society during this pivotal period in its history
Incorporates the most recent scholarship on aspects of Augustus's reign including the armed forces, religion, and intellectual and cultural life
Andrew Lintott is a widely respected expert on the Roman Republic
List of Figures.
List of Maps.
Preface.
Abbreviations.
1 Introduction.
2 The Growth of an Empire.
3 The Crisis of the Late Republic.
4 The Emperor and his People.
5 Town and Country.
6 Customs, Culture, and Ideas.
7 The Armed Services and the Frontiers.
Notes.
References.
Index.
"The book is complemented by 19 figures and 5 maps.  It quickly brings the reader into the world of Augustus in an engaging style."  (Near East Archaeological Society Bulletin, 1 December 2013)
"Highly recommended. General collections/public libraries." (Choice, 1 May 2011)
"It is...a pleasure to report on The Romans in the age of Augustus (63 BC to AD 14) inBlackwell's excellent series 'The Peoples of Europe'.This short overview, just under 170 pages long (plusendnotes, references and index), grew out of ANDREWLINTOTT's teaching at Oxford and the BritishSchool at Rome: it packs a tremendous amount ofinformation on the period with consummate ease." (Antiquity, December 2010)
Written in an easily accessible style, making it the ideal introduction to Augustan Rome for those with little previous knowledge
Offers a compelling insight into the workings of Roman society during this pivotal period in its history
Incorporates the most recent scholarship on aspects of Augustus's reign including the armed forces, religion, and intellectual and cultural life
Andrew Lintott is a widely respected expert on the Roman Republicd