The Roots of Modern Social Psychology: 1872-1954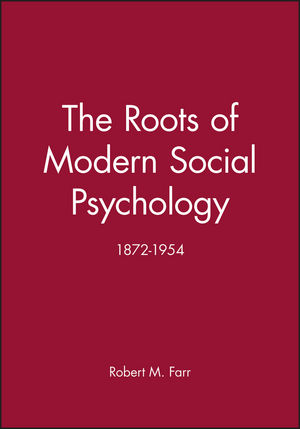 The Roots of Modern Social Psychology: 1872-1954
ISBN: 978-0-631-19447-7 August 1996 Wiley-Blackwell 224 Pages
Description
This volume traces the origins of social psychology in both the European and American traditions of thought, and seeks to place modern social psychology in its historical setting.
Table of contents
Preface.
1. Modern social psychology: a characteristically American phenomenon.
2. The emergence in Germany of psychology as a natural and social science.
3. The psychology of the masses and of culture.
4. George Herbert Mead: philosopher and social psychologist.
5. The Murchison Handbook of 1935: a truly comparative psychology.
6. The individualisation of social psychology in North America.
7. Sociological and psychological forms of social psychology.
8. Ancestors and founders: reconstructing the past.
9. War and the history of social psychology.
10. The long past and the short history of social psychology.
Appendix I: Some significant dates in the emergence of psychology as an experimental and social science 1872 - 1937.
Appendix II: The rubric for Paper V of the University of London Examinations in Psychology in the early 1960s.
Appendix III: Reviewers comments on The Long past and the Short History of Social Psychology.
Bibliography.
Index.
Reviews
"Rob Farr, Professor of Social Psychology at LSE, focuses upon the history of one discipline in this sparkling set of collected essays.... Social psychology, Farr argues, has a long past and short history. In this fine set of essays he provides many correctives to the simplifications of the textbooks."
LSE Magazine, Winter 1996
"Written with verve and imagination, Professor Farr's book is an important and sure to be controversial attempt to revitalize historical thinking in social psychology." Professor Serge Moscovici, Ecole Des Hautes Etudes en Sciences Sociales, Paris
"... the first comprehensive history of social psychology, covering European, as well as American, sociological as well as psychological perspectives... provides an indispensable resource for anyone seeking more than a one dimensional orientation to social psychology." Kurt Danziger, Professor Emeritus, York University
"Farr's often intriguing judgements, opinions, and speculations make, as intended, for a provocative book." Contemporary Psychology
Features
Challenges perceived ideas of the history of social psychology
Inter-disciplinary in that it provides a framework for understanding sociological as well as psychological forms of social psychology.