The Rorschach, A Comprehensive System, Volume 1, Basic Foundations and Principles of Interpretation, 4th Edition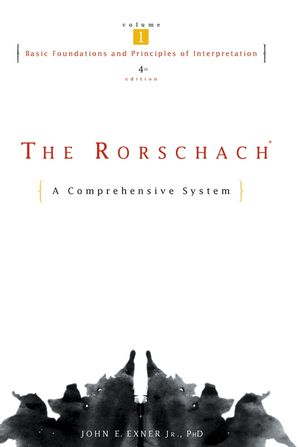 The Rorschach, A Comprehensive System, Volume 1, Basic Foundations and Principles of Interpretation, 4th Edition
ISBN: 978-0-471-38672-8
Nov 2002
696 pages
Description
The fully revised edition of the premier guidebook to the Rorschach test

For the last three decades, Dr. John Exner's Comprehensive System has been the leading approach worldwide to administering and interpreting the Rorschach test. The Rorschach: A Comprehensive System, Volume 1, Fourth Edition retains the thorough, authoritative coverage that has kept this book at the forefront of the field, while combining approaches to both evaluation and interpretation for the first time in a single volume. This new edition provides updated research and information on administering, scoring, and interpreting the Rorschach test, as well as new normative data, coverage of recent controversies and criticisms of the test, and illustrative case studies.

New to this edition:
* Latest normative data for interpreting the Rorschach
* More cases illustrating the techniques for administering, scoring, and interpreting the test
* New chapters on interpretation
* A chapter on recent controversies surrounding the test


The Rorschach: A Comprehensive System remains the most enlightened and influential guide to the test.
Buy Both and Save 25%!
This item: The Rorschach, A Comprehensive System, Volume 1, Basic Foundations and Principles of Interpretation, 4th Edition
Essentials of Rorschach Assessment (Paperback $50.00)
Original Price:$223.00
Purchased together:$167.25
save $55.75
Cannot be combined with any other offers.
Part One: History and Development of the Rorschach
* Introduction
* Development of the Test: The Rorschach Systems
* Controversy, Criticism, and Decisions

Part Two: Administration and Scoring the Rorschach

* Rorschach Administration: Decisions and Procedures
* Scoring: The Rorschach Language
* Location and Developmental Quality: Coding and Criteria
* Determinants: Coding and Criteria
* Form Quality, Content, Populars, and Organizational Activity
* Special Scores
* The Structural Summary

Part Three: The Nature of the Test

* The Response Process
* Normative Data

Part Four: Interpretation

* General Guidelines Regarding Interpretation
* Controls and Stress Tolerance
* Situationally Related Stress
* Affect
* Information Processing
* Cognitive Mediation
* Ideation
* Self Perception
* Interpersonal Perception and Behavior
* The Complete Description
12 all new chapters --including 9 new chapters on interpretation.
New edition offers a comprehensive guide to administering, scoring, and interpreting the Rorschach.
Includes the Revised Normative data.
New chapter addressing the recent controversy and criticism of the Rorschach.
17 full length cases to illustrate how to use the system.
Considered the classic resource for learning how to properly use and interpret the Rorschach test.
Written by the most recognized and respected scholar in the field.