The Rorschach, A Comprehensive System, Volume Two, Advanced Interpretation, 3rd Edition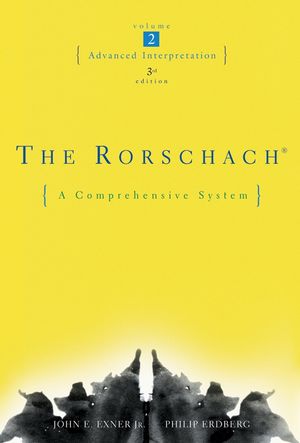 The Rorschach, A Comprehensive System, Volume Two, Advanced Interpretation, 3rd Edition
ISBN: 978-0-471-74659-1 September 2005 576 Pages
Description
The fully revised and expanded edition of the premier guidebook to Interpreting the Rorschach

For the last three decades, Dr. John Exner's Comprehensive System has been the leading approach worldwide to administering and interpreting the Rorschach Inkblot Test. Comprised of three volumes, The Rorschach(r): A Comprehensive System is the authoritative reference for the administration, scoring, and interpretation of the Rorschach. This Third Edition of Volume Two: Advanced Interpretation, with new and updated information and case studies, provides an essential companion to the basic foundations and principles outlined in Volume One: Basic Foundations and Principles of Interpretation.

New to this edition:
* All-new case studies describing accurate use of the Rorschach in the assessment of children, adolescents, and adults in a variety of clinical and forensic settings
* New research developments
* New additions to Exner's Comprehensive System
* Expanded reference data, including nonpatient data
* Expanded coverage of the cluster approach to organizing data for interpretation

The leading guide to the study and implementation of the Rorschach for more than three decades, this latest volume from John Exner and Philip Erdberg is must-reading for any serious scholar or user of the Rorschach.
Table of Tables.
Preface.
PART ONE: GENERAL INTRODUCTION.
1. Recent Developments and Interpretive Strategies.
2. Rorschach Assessment: A Consultation Model.
PART TWO: USING THE RORSCHACH IN CLINICAL CONSULTATION AND TREATMENT PLANNING.
3. An Issue of Stress Management.
4. An Issue of Depression and Suicide Risk.
5. An Issue of Panic Attacks.
6. An Issue of Delusional Thinking.
7. An Issue of Dissociation.
8. An Issue of Anxiety and Sleep Problems.
9. Issues Regarding an Acute Psychotic Episode.
10. An Evaluation Related to Substance Abuse.
11. An Issue of Motivation for Substance Abuse Treatment.
12. An Issue of Impulse Control.
13. Problems with Interpersonal Relations.
PART THREE: USING THE RORSCHACH IN FORENSIC CONSULTATION.
14. An Issue of Danger to the Self or Others.
15. Issues of Sanity and Competency.
16. Pain Problems in Personal Injury Litigation.
PART FOUR: USING THE RORSCHACH WITH CHILDREN AND ADOLESCENTS.
17. An Issue of Deteriorating Academic Performance.
18. A Problem with Aggressiveness.
19. Drug Overdose in an Adolescent.
PART FIVE: THE RORSCHACH AND ISSUES OF IMPRESSION MANAGEMENT.
20. Issues of Malingering.
21. Simulation of Good Adjustment.
PART SIX: SOME NEW NONPATIENT DATA.
22. Progress in Building a New Nonpatient Sample.
23. Frequency Data by Card and Location.
Author Index.
Subject Index.
1. Completely updated; includes all new case studies
2. Features dozens of new tables analyzing new Rorschach data sets
1. Classic text from the father of the Rorschach
2. Features all new case studies on a variety of presenting problems
3. Features dozens of in-depth tables analyzing Rorschach data sets