The Royal French State, 1460 - 1610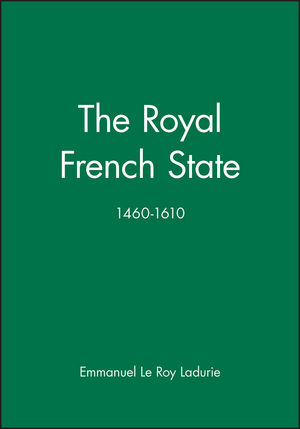 The Royal French State, 1460 - 1610
ISBN: 978-0-631-17027-3 April 1994 Wiley-Blackwell 336 Pages
Description
In this second volume of the History of France series, Emmanuel Le Roy Ladurie provides a masterful account of the early modern period combining a compelling narrative with broad analysis of events and wider comparisons with European history.
Preface.
Introduction.
Part I: Valois Flowering:.
1. A Renaissance.
2. War and Recovery.
3. The Italian Adventure.
4. Humanist Strategies: Variable Outcomes.
5. Intolerance and its Aftermath.
Part II: Valois Decadence:.
6. Fracture.
7. War Games.
8. The Point of No Return.
9. The Tree of Justice.
10. The Guise and their Supporters.
Part III: Bourbon Spring:.
11. Broader Perspectives.
12. City, Finance and Office.
13. The Kingdom and the Nobility.
14. National Identity.
Chronology.
"The world of the nobility is as vividly evoked as that of the humble, and the portraits of the kings reveal a virtuosity which would have been the envy of Michelet.
A History of France
series is a work of immense quality."
Historama
"Magnificent! The personalities of the kings and queens of the period, (among them Louis XI, Louis XII, Henri IV, Catherine de Medici) are admirably captured. The author also provides an incisive account of social, cultural and economic trends, explains with equal clarity the causes and outcomes of the wars with Italy and of religion, and shows that the reasons the Reformation failed in France were essentially political." L'Histoire
"This stimulating book has been translated with care by Juliet Vale, the bilbliography has been adapted for a British audience." Literary Review
"Readers of this second volume are unlikely to be disappointed." History
Very distinguished author with a major international reputation
Combines narrative with analysis and reappraisal of important events.