The Royal Marsden Hospital Handbook of Wound Management In Cancer Care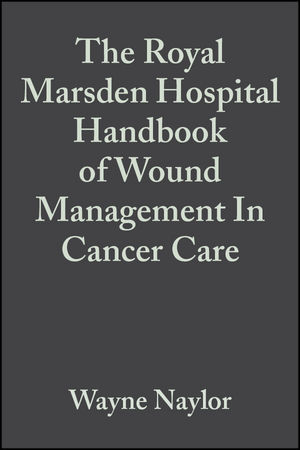 The Royal Marsden Hospital Handbook of Wound Management In Cancer Care
ISBN: 978-0-470-69499-2 April 2008 Wiley-Blackwell 224 Pages
Description
The Royal Marsden Hospital Handbook of Wound Management in Cancer Care
offers evidence-based guidance on wound management in a practical and easily accessible format. An introduction to wound healing and assessment is followed by the management of specific wound types and a detailed chapter on wound management products. This book is unique in bringing together invaluable specialist advice, expert opinion and research on the management of wounds related to cancer and cancer therapies.
It will be an essential reference for nurses and health care professionals working in the fields of oncology and palliative care, in both community and hospital settings.
The Royal Marsden Hospital is the largest comprehensive cancer center in Europe and is one of the world's foremost hospitals dedicated to the care of people with cancer. For further information about career opportunities please call The Royal Marsden toll-free 0800 389 2271.
Table of contents
Contributors; Foreword; Acknowledgements; Introduction; Physiology of Wound Healing; Wound Assessment; Management of Specific Wound Types; Management of Wounds Related to Cancer and its Treatment; A Guide to Wound Management Products; References; Further Reading; Appendix; Index
Reviews
"The handbook is well constructed and referenced...it is a comprehensive resource for clinicians in cancer and palliative care settings."
Journal of Wound Care

This easy-to-read book...is a handy size for use in every day clinical practice'

European Journal of Cancer Care
Features
* a quick and easy reference for the management of simple, complex and/or chronic wounds
* highly referenced throughout with numerous colour pictures
* evidence-based outlines for the management of wounds in cancer care
* continues the tradition of best practice and high quality patient care set by the bestselling text The Royal Marsden Hospital Manual of Clinical Nursing Procedures