The Royal Wedding For Dummies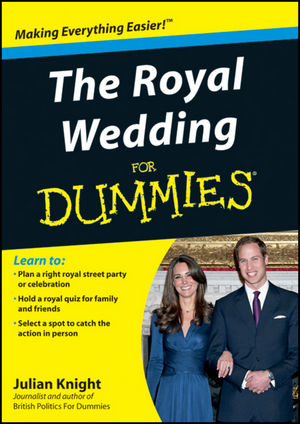 The Royal Wedding For Dummies
ISBN: 978-1-119-97304-1 February 2011 216 Pages
Description
The fun, slightly irreverent guide to enjoying, understanding, and joining the festivities.
Content includes:
A brief biography of the happy couple - of course
Royal wedding fact sheets featuring in-depth explanations of the customs, rules of etiquette, and history on display during the events
An inside look at Westminster Abbey - the building, the history, and the weddings
A lively account of royal weddings of the past - with a score card ranking the ultimate results - including a look at other royal/commoner romances
"Where did they go?" Royal honeymoons of the past
A "Know Your Heads of State and Hangers-On" section perfect for figuring out who's at the events
A guide to planning and holding a street party that will bring back memories from the past
A recipe section with great takes on traditional British fare perfect for a party
Royal trivia sure to tax the talents of young and old alike
An "If you're going" guide featuring
The best places to get a glimpse of the revelry in person
Great places to grab a pint or glass of wine and soak in the atmosphere
Tips on getting around London easily and safely on the big day
Table of contents
Introduction.
Part I: The Background.
Chapter 1: Charting the Course of the Royal Romance.
Chapter 2: Gazing at the Royal Family.
Chapter 3: Revisiting Royal Marriages of the Past.
Part II: The Wedding.
Chapter 4: Taking a Tour of Westminster Abbey.
Chapter 5: Following the Rules of Etiquette.
Chapter 6: Running Through the Day's Events.
Part III: Taking Part in the Festivities.
Chapter 7: The Best Places to View the Events.
Chapter 8: Throwing a Proper Street Party.
Chapter 9: Party Fare Fit for a King.
Chapter 10: Delivering a Right Royal Pub Quiz.
Part IV: The Part of Tens.
Chapter 11: Ten Websites to Keep Up with the Wedding.
Chapter 12: Ten Royal Newlywed Homes.
Index.
Reviews
"...a good guide with lots of tips and a fresh and fun look at these historic events." (
Shropshire Star
, March 2011)
"...perfect guide to provide readers with a fresh, fun look at this historical event." (iVillage.co.uk, March 2011)
"...a great read to prepare you for The Royal Wedding." (Beautyandthedirt.com, April 2011)
"...an entertaining guide to enjoying, understanding and joining in the festivities on The Big Day." (Western Morning News, April 2011)
"...some super hints about how to throw a street party." (Grazia, April 2011)
Notes
Royal Weddings for Dummies Video