The Rules of Risk: A Guide for Investors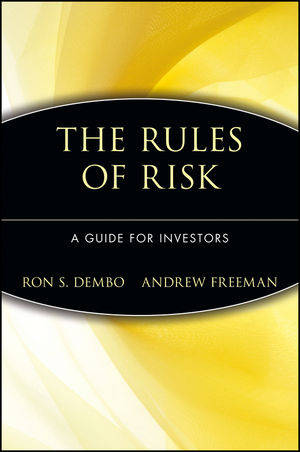 The Rules of Risk: A Guide for Investors
ISBN: 978-0-471-40163-6
Jan 2001
272 pages
Product not available for purchase
Description
An innovative framework to understanding risk management
The Rules of Risk takes the reader from the present to the future of risk management. Combining a novel approach to risk management with the tools of mathematics, finance, computer science, and an understanding of capital markets, authors Dembo and Freeman present their framework of a new risk paradigm that peers into the risk-taking of tomorrow to enhance our ability to make choices and manage risk. The implications of their visionary work are far-reaching, affecting the future of investing, the financial institution, the economy, and beyond. The Rules of Risk provides investors not only with an applied vision of the future of risk, but with a knowledge of what risk management is and the thinking behind it.
Introduction: It Really Happened.

How to Think About Risk.

The Elements of Risk Management.

Of Decisions and Risk.

Sweet Regret.

Keeping Up With the Joneses.

Paying for Playing.

The Rap Trap and Evaluations.

Of Life, Lotteries, and Stock Options.

Making Good Things Better.

Know Your Risk.

Afterword: How Regret Can Change Your Life.

Index.