The Russian Revolution: The Essential Readings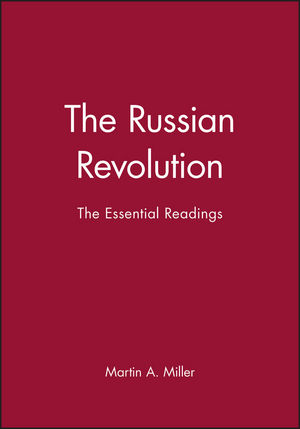 The Russian Revolution: The Essential Readings
ISBN: 978-0-631-21638-4
Jan 2001
322 pages
Description
This indispensable volume comprises the work of nine of the most prominent scholars of the Russian Revolution, with introductions by the editor that help students contextualize and understand each piece.
Acknowledgments.
Editor's Introduction: The Russian Revolution at the Millennium: Martin Miller.
Part I: On the Eve: Toward Revolution:.
1. The Battleground: Edward Acton.
Part II: Parties, Movements and Personalities in the Revolutions of 1917:.
Introduction: Martin Miller.
2. Russia's Second Revolution: The February 1917 Uprising in Petrograd: E. N. Burdzhalov.
3. The Russian Revolution of 1917 and its Language in the Village: Orlando Figes.
4. The Bolsheviks come to Power: Alexander Rabinowitch.
Part III: Issues of Class, Gender and Ethnicity in the Revolution:.
Introduction: Martin Miller.
5. Russian Labor and Bolshevik Power: Social Dimensions of Protest after October: William Rosenberg.
6. Ascribing Class: The Construction of Social Identity in Soviet Russia: Sheila Fitzpatrick.
7. Bolshevik Women: Barbara Evans Clements.
8. State Building and Nation-Making: The Soviet Experience: Ronald G. Suny.
Part IV: Conclusions and Prospects: .
9. Writing the History of the Russian Revolution after the Fall of Communism: Steve Smith.
Index.
"Professor Miller has succeeded in putting together an admirable collection of important articles on the Russian revolutionary experience, and has linked them together with an excellent set of introductions."
Reginald E. Zelnik, Professor of History, University of California at Berkeley <!--end-->
"Miller has collected some of the best writing from a brilliant field." Times Higher Education Supplement

"This collection of essays should prove a useful guide for students: the editor has provided a sound introduction to the book and gives a good introduction to the book and gives a good introduction to each peice, setting them each in their historiographical context. The book enables us to achieve a clear understanding of the state of the debate that surrounds 1917 as we enter the twenty-first century" Peter Waldron, University of Sunderland

"[It] will be of great use to all those teaching the history of Revolutionary Russia...Miller has brough together some of the best journal articals on 1917." Geoffrey Swain, University of the West of England - Revoltuionary Russia, Vol. 15/June 2002
A well-balanced collection of key articles on the Russian Revolution commonly used in courses.

Helpful introductions provide the context and framework for understanding the articles.

The first student-friendly collection to trace the development of historical writing on the Russian Revolution over the last half century.

Includes discussion of Anglo-American as well as Russian scholarship from a post-Soviet perspective.