The Russian Revolutions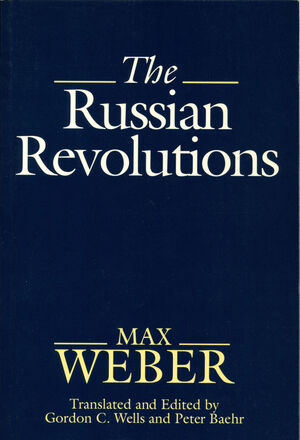 The Russian Revolutions
ISBN: 978-0-745-60943-0
Feb 1995, Polity
296 pages
Description
This book is the first English-language edition of Weber's writings on the revolutions in Russia in 1905 and February 1917. Weber discusses the events and examines the issue of Russian 'liberalization' and its prospects in a way that, after the dissolution of the Soviet Union, has great relevance today.
1. Editor's Introduction.
2. Bourgeois Democracy in Russia.
3. Russia's Transition to Pseudo-constitutionalism.
4. Russia's Transition to Pseudo-democracy.
5. The Russian Revolution and the Peace. Political Parties and Associations in Russia, 1905-1906.
Glossary.
Index.
"The editors have provided extensive notes and glossaries, both of which are necessary and useful in approaching Weber's detailed work. This book is a timely and telling addition to a number of fields of inquiry ... it gives us a clear example of Weber's political sociology applied to a practical and pressing situation."
History of the Human Sciences
"This volume will be of interest to two kinds of people: those who are interested in the sociology of Max Weber and those whose field is Russian history. For the historian of Russia, Weber's 'chronicles' of the 1905 revolution are extremely instructive. This is not only because they give a contemporary perspective on events, but because Weber was concerned to analyse the social dynamic behind the current crisis in Russia ... the insight they provide into the peculiarities of Russian social and political development is of a genuine and enduring value. They could even be read with profit by those wishing to understand Russian society of the present day!" Slavonica
* Now available in paperback, this is the first English-language edition of Weber's writings on Russia.
* A tour-de-force of political writing.
* It will add a significant chapter to our understanding of Weber's life and work.