The SSCP Prep Guide: Mastering the Seven Key Areas of System Security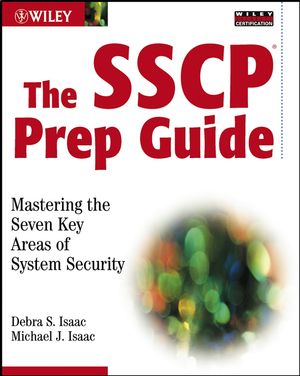 The SSCP Prep Guide: Mastering the Seven Key Areas of System Security
ISBN: 978-0-471-27351-6
Apr 2003
528 pages
Product not available for purchase
Description
SSCP (System Security Certified Practitioner) is the companion test to CISSP, appealing to the practitioners who implement the security policies that the CISSP-certified professionals create
Organized exactly like the bestselling The CISSP Prep Guide (0-471-41356-9) by Ronald L. Krutz and Russell Dean Vines, who serve as consulting editors for this book
This study guide greatly enhances the reader's understanding of how to implement security policies, standards, and procedures in order to breeze through the SSCP security certification test
CD-ROM contains a complete interactive self-test using all the questions and answers from the book, powered by the Boson test engine
Introduction.
Acknowledgments.
About the Authors.
Chapter 1. The Journey Toward Information Security: An Overview.
Chapter 2. Domain 1: Access Controls.
Chapter 3. Domain 2: Administration.
Chapter 4. Domain 3: Auditing and Monitoring.
Chapter 5. Domain 4: Risk, Response, and Recovery.
Chapter 6. Domain 5: Cryptography.
Chapter 7. Domain 6: Data Communications.
Chapter 8. Domain 7: Malicious Code.
Appendix A.  Glossary.
Appendix B.  Testing Tools.
Appendix C.  References for Further Study.
Appendix D.  Answers to Sample Questions.
What's on the CD-ROM.
Index.
Chapter
Page
Details
Date
Print Run
CD ID#164
CD Question ID#164
Question: Which is a property of fiber-optic cabling? Answer 1: Employs copper wire in the single, inner conductor Answer 2: Transmits at slower speeds than copper cable Answer 3: Harder to tap than copper cabling Answer 4: Consists of two insulated wires wrapped around each other Explanation: Fiber-optic cable is much harder to tap than copper cable. Answer a is a property of coax, answer b is incorrect, and answer d describes unshielded twisted-pair (UTP) cabling. Errata: The correct answer is C. The test says answers A & C are correct and the explanation doesn't clearly rule out answer A.
5/22/03

---