The Sarbanes-Oxley Section 404 Implementation Toolkit: Practice Aids for Managers and Auditors, with CD ROM, 2nd Edition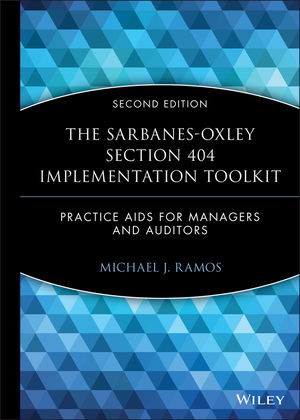 The Sarbanes-Oxley Section 404 Implementation Toolkit: Practice Aids for Managers and Auditors, with CD ROM, 2nd Edition
ISBN: 978-0-470-16931-5
Apr 2008
408 pages
Description
Now updated and fully revised, The Sarbanes-Oxley Section 404 Implementation Toolkit, Second Edition helps large or small companies continue to meet the complex internal control reporting requirements of Sarbanes-Oxley. Brimming with a wealth of forms and checklists, the new edition helps you get up to speed quickly with SOX 404 requirements and makes the compliance process repeatable, more efficient, and more effective.
Buy Both and Save 25%!
Original Price:$220.00
Purchased together:$165.00
save $55.00
Cannot be combined with any other offers.
About the Author vii
Preface ix
Acknowledgments xi
Part I Tools for Management 1
ADM-1 General Work Program 3
ADM-2 Project Planning Summary 17
ADM-2a Checklist for Summarizing Project Team Competence and Objectivity 31
ADM-2b.1 Worksheet for Determining and Documenting Significant Accounts and Disclosures 34
ADM-2b.2 Mapping of Business Processes to Significant Accounts and Disclosures 40
ADM-2c Example Inquiries to Identify Changes to Internal Control 45
ADM-3 Senior Management Review Checklist 47
ADM-4 Checklist for Preparation of Management's Report on Internal Control Effectiveness 52
Part II Documentation of Internal Control Design 57
DOC-1 Work Program for the Review of Documentation of Entity-Level Controls 59
DOC-1a Assessment of Internal Control Effectiveness: Overall Approach to Review of the Documentation of Entity-Level Controls 62
DOC-1b Assessment of Internal Control Effectiveness: Checklist for the Review of the Documentation of Entity-Level Controls 66
DOC-2 Work Program for the Review of Documentation of Activity-Level Controls 80
DOC-2a Assessment of Internal Control Effectiveness: Overall Approach to Review of the Documentation of Activity-Level Controls 82
DOC-2b Assessment of Internal Control Effectiveness: Checklist for the Review of the Documentation of a Significant Transaction or Business Unit/Location 85
DOC-3 Documentation Techniques and Selected Examples for Routine Transactions 87
DOC-4 Checklist for Evaluating SOX 404 Software 110
Part III Internal Control Testing Programs 113
Entity-Level Controls Testing Tools 115
TST-ENT-1 Summary of Observations and Conclusions about Entity-Level Control Effectiveness 119
TST-ENT-1a Checklist for Small Business Entity-Level Controls 135
TST-ENT-2 Work Program for Testing Entity-Level Control Effectiveness 143
TST-ENT-3 Index to Tests of Entity-Level Controls: Inquiries and Surveys 171
TST-ENT-3a Entity-Level Tests of Operating Effectiveness: Inquiry Note Sheets—Management 176
TST-ENT-3b Entity-Level Tests of Operating Effectiveness: Inquiry Note Sheets—Board Members 187
TST-ENT-3c Entity-Level Tests of Operating Effectiveness: Inquiry Note Sheets—Audit Committee Members 193
TST-ENT-3d Entity-Level Tests of Operating Effectiveness: Inquiry Note Sheets—Employees 200
TST-ENT-3e Example Employee Survey 207
TST-ENT-4 Index to Tests of Entity-Level Controls: Inspection of Documentation 215
TST-ENT-4a Worksheet to Document Inspection of Documentation of Performance of Entity-Level Controls 217
TST-ENT-5 Index to Tests of Entity-Level Controls: Observation of Operations 220
TST-ENT-5a Worksheet to Document Observation of Operation of Entity-Level Controls 222
TST-ENT-6 Index to Tests of Entity-Level Controls: Reperformance of Controls 225
TST-ENT-6a Worksheet to Document Reperformance of Entity-Level Controls 227
TST-ENT-7 Work Program for Reviewing a Report on IT General Control Effectiveness 230
TST-ENT-7a Planning and Review of Scope of Tests of IT General Control Effectiveness 235
TST-ENT-8 Work Program for Performing an IT General Controls Review 241
Guidelines for Testing Activity–Level Control Effectiveness 245
TST-ACT-1 Guidelines and Example Inquiries for Performing Walkthroughs 253
TST-ACT-2 Example Testing Program for Activity-Level Tests of Controls 261
TST-ACT-2a Example Testing Program for Control Operating Effectiveness: Revenue 262
TST-ACT-2b Example Testing Program for Control Operating Effectiveness: Purchases and Expenditures 267
TST-ACT-2c Example Testing Program for Control Operating Effectiveness: Cash Receipts and Disbursements 271
TST-ACT-2d Example Testing Program for Control Operating Effectiveness: Payroll 275
TST-ACT-3 Work Program for the Review of a Type 2 SAS No. 70 Report 279
TST-ACT-3a Type 2 SAS No. 70 Report Review Checklist 282
TST-ACT-4 Process Owners' Monitoring of Control Effectiveness 289
Part IV Example Letters and Other Communications 295
COM-1 Example Engagement Letter for Outside Consultants to Management 297
COM-2 Example Management Representation Letter 301
COM-3 Example Management Reports on Effectiveness of Internal Control over Financial Reporting 303
COM-4 Example Subcertification 305
Appendix A 307
About the CD-ROM 385
Index 389