The Savage Number: How Much Money Do You Need to Retire?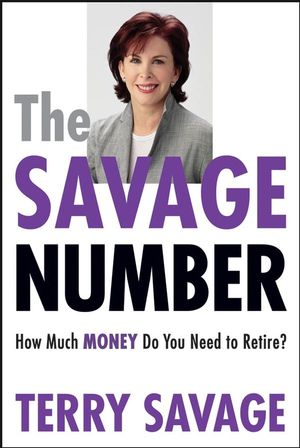 The Savage Number: How Much Money Do You Need to Retire?
ISBN: 978-0-470-06774-1
Feb 2007
272 pages
Product not available for purchase
Description
Nationally known personal finance expert, Terry Savage, shows readers how to find the answers to their retirement questions. The Savage Number provides the hands-on techniques to plan a successful, satisfying retirement. Savage takes readers beyond "guesstimates" and wishful thinking. Instead, she introduces readers to the world of Monte Carlo modeling—the statistical science of modeling multiple alternatives to come up with a range of highly probable results. The process guides readers through the critical decisions about how to invest their retirement money—and how much they can withdraw to live on—so their money lasts their entire lifetime! Filled with in-depth insights and practical advice, The Savage Number takes the guesswork out of retirement planning, so readers can overcome those obstacles and comfortably enjoy the rest of their lives.
Introduction: Can You Retire?
PART 1: RETRO-RETIREMENT.
1. The Savage Number. 2. Time is Money. 3. The 10 Key Questions.
PART 2: MONTE CARLO YOUR MONEY.
4. The Savage Answer:
Monte Carlo
Modeling. 5. Saving Up, Drawing Down. 6. Getting It All Together.
7. A Road
Map to
Monte Carlo
.
PART 3: INVESTING FOR RETIREMENT.:
8. Stocks, Bonds, and Chicken Money. 9. Beyond the Basics. 10. One-Step Retirement Investing.
PART 4: STREAMS OF RETIREMENT INCOME.
11. Where Will the Money Come From? 12. Social Security and Medicare. 13. Annuities for Income and Tax-Deferred Growth. 14. How to Turn Your Home into Your Pension.
PART 5: LONG-TERM CARE: THE GREATEST RISK OF ALL.
15. Long-Term Care Insurance: Who Needs It? 16. How to Understand Long-Term Care Coverage. 17. Buying Your Long-Term care Policy.
PART 6: ESTATE PLANNING: THE PRICE OF SUCCESS.
18. What's Left? Conclusion. Acknowledgments. Index.