The Savage Wars of Peace: England, Japan and the Malthusian Trap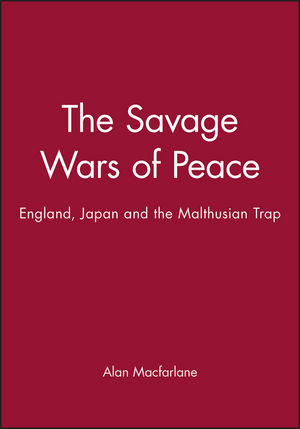 The Savage Wars of Peace: England, Japan and the Malthusian Trap
ISBN: 978-0-631-18117-0
May 1997, Wiley-Blackwell
446 pages
Description
Through detailed comparative analysis of English and Japanese history the book explores such matters as the destruction of war, decline of famine, the control of fertility.
Acknowledgements.
References, Conventions and Measures.
Introduction.
Part I: The Trap:.
1. The Malthusian Trap.
2. Two Islands.
Part II: Wars of Peace:.
3. Natural Environment, Culture and Human Labour.
4. The Destruction of War.
5. The Nature, Causes and Elimination of Famine.
6. Food and Nutrition.
Part III: In the Body: .
7. Dysentery, Typhoid, Cholera and the Water Supply.
8. Drink: Milk, Water, Beer and Tea.
9. Two Methods for the Disposal of Human Excrement.
Part IV: On the Body:.
10. Vector-borne Diseases: Plague, Typhus and Malaria.
11. Public Environs: Streets, Fields and Markets.
12. Housing and Health.
13. Textiles, Clothing and Footwear.
14. Bodily Hygiene: Bathing and Washing.
15. Changing Concepts of Dirt and Cleanliness.
Part V: In the Air:.
16. Air-borne Diseases: Smallpox, Measles and Tuberculosis.
Part VI: In the Womb:.
17. Fertility, Marriage and Sexual Relations.
18. Biology and Contraception.
19. Abortion and Infanticide.
20. Strategies of Heirship.
Part VII: Outcome: .
21. Design and Chance.
Index.
"Presents a compelling reading of the lost world which gave birth to our own." THES
* Path-breaking, comparative study by a brilliant, world-renowned scholar.
* Examines key themes in history of industrial civilization.
* Compares and contrasts experiences of England and Japan over time.
* Draws on wide range of contemporary sources - traveller's accounts, diaries and medical texts.