The Scholarship of Teaching and Learning in Canada: Institutional Impact: New Directions for Teaching and Learning, Number 146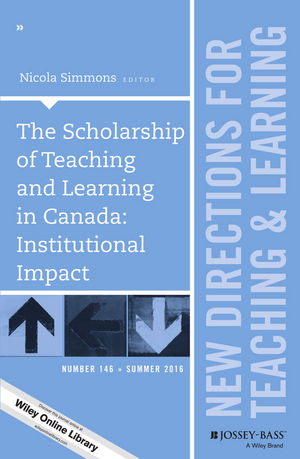 The Scholarship of Teaching and Learning in Canada: Institutional Impact: New Directions for Teaching and Learning, Number 146
ISBN: 978-1-119-27279-3
Jun 2016, Jossey-Bass
112 pages
Description
Develop effective models of practice and positively impact institutional teaching and learning quality. This volume provides examples and evidence of the ways in which post-secondary institutions in Canada have developed and sustained programs around the scholarship of teaching and learning (SoTL) that impact the institutional pedagogical climate. Topics include:
the historical development of SoTL in Canada,
institutional SoTL practices, including evidence of impact,
program design and case studies, and
continuing challenges with this work.
This is the 146th volume of this Jossey-Bass higher education series. It offers a comprehensive range of ideas and techniques for improving college teaching based on the experience of seasoned instructors and the latest findings of educational and psychological researchers.
EDITOR'S NOTES 7
Nicola Simmons
FOREWORD 11
Nancy Chick
Section One: Canadian Context
1. The History of SoTL in Canada: Answering Calls for Action 13
Nicola Simmons, Gary Poole
This chapter provides an account of the historical development of SoTL in Canada, including recommendations for moving forward
2. The Canadian Teaching Commons: The Scholarship of Teaching and Learning in Canadian Higher Education 23
Brad Wuetheric, Stan Yu
This chapter maps the Scholarship of Teaching and Learning (SoTL) terrain in Canada through the perceptions of SoTL scholars at four levels (micro, meso, macro, mega)
Section Two: Program Design And Evaluation
3. The Intentional Design of a SoTL Initiative 31
Cheryl Amundsen, Esma Emmioglu, Veronica Hotton, Gregory Hum, Cindy Xin
This chapter outlines how rationale and description of a program design are the underpinnings to evaluate any Scholarship of Teaching and Learning initiative and shows how this supports building on prior practice
4. The Scholarship of Teaching and Learning (SoTL) at Renaissance College (University of New Brunswick): A Case Study of SoTL at the Faculty Level 39
Thomas Mengel
This chapter discusses how a university college moves SoTL forward by aligning with the larger institution and taking advantage of SoTLfriendly existing promotion and tenure policies
5. Developing the Scholarship of Teaching and Learning at the McMaster Institute for Innovation and Excellence in Teaching and Learning 47
Elizabeth Marquis, Arshad Ahmad
This chapter outlines how research fellow positions, engagement of students as co-inquirers, and mapping priority areas for scholarship have the potential for substantial impact on institutional teaching, learning, and SOTL
Section Three: Exploring the Impact of SoTL Initiatives
6. SoTL2: Inquiring into the Impact of Inquiry 55
Janice Miller-Young, Michelle Yeo, Karen Manarin, Miriam Carey, Jim Zimmer
This chapter examines the impact of Mount Royal's SoTL program on participants' scholarship at individual, department, and institutional levels as the institution moved from a college to a university
7. Exploring the SoTL Landscape at the University of Saskatchewan 63
Brad Wuetherick, Stan Yu, Jim Greer
This chapter examines who conducts Scholarship of Teaching and Learning, and to what extent, at the University of Saskatchewan and what barriers and challenges impede SoTL work
8. Reconceptualizing the Scholarship of Teaching and Learning at the University of Waterloo: An Account of Influences and Impact 71
Julie A. Timmermans, Donna E. Ellis
This chapter outlines how one institution capitalized on events to move from a focus on SoTL to scholarly teaching and discusses the resulting benefits to the culture of teaching and learning
Section Four: Institutionally Networked SoTL
9. The Role of Small Significant Networks and Leadership in the Institutional Embedding of SoTL 79
Roselynn Verwoord, Gary Poole
This chapter builds on notions of social networks, showing how consideration of their nature, relationships between them, and support for them can help create a positive teaching culture
10. Building Sustained Action: Supporting an Institutional Practice of SoTL at the University of Guelph 87
Natasha Kenny, Gavan P.L. Watson, Serge Desmarais
This chapter outlines the symbiotic relationship between engagement in SoTL and a teaching-focused institutional culture, identifying the importance of committed leaders, rewards and recognition, and integrated networks at all organizational levels
Section Five: Synthesis
11. Synthesizing SoTL Institutional Initiatives toward National Impact 95
Nicola Simmons
This chapter draws together the themes in this issue and outlines a model for building from institutional SoTL impact to national initiatives
INDEX 103