The School Counseling and School Social Work Treatment Planner, 2nd Edition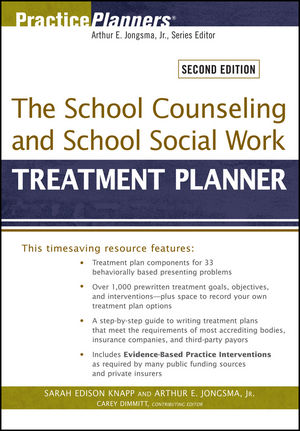 Description
The Bestselling treatment planning system For mental health professionals
The School Counseling and School Social Work Treatment Planner, Second Edition provides all the elements necessary to quickly and easily develop formal treatment plans that satisfy the demands of HMOs, managed care companies, third-party payors, and state and federal agencies.
New edition features empirically supported, evidence-based treatment interventions including coverage of disruptive classroom behaviors, reinforcing student success, bullying, peer conflict, and school violence
Organized around 33 behaviorally based presenting problems in treating students who experience social and emotional difficulties, including social maladjustment, learning difficulties, depression, substance abuse, family instability, and others
Over 1,000 prewritten treatment goals, objectives, and interventions—plus space to record your own treatment plan options
Easy-to-use reference format helps locate treatment plan components by behavioral problem
Includes a sample treatment plan that conforms to the requirements of most third-party payors and accrediting agencies including CARF, The Joint Commission (TJC), COA, and the NCQA
Additional resources in the PracticePlanners® series:
Documentation Sourcebooks provide the forms and records that mental health professionals need to efficiently run their practice.
Homework Planners feature behaviorally based, ready-to-use assignments to speed treatment and keep clients engaged between sessions.
For more information on our PracticePlanners® products, including our full line of Treatment Planners, visit us on the web at: www.wiley.com/practiceplanners
PracticePlanners® Series Preface xiii
Acknowledgments xvii
Introduction 1
Academic Motivation/Study and Organizational Skills 17
Anger Management/Aggression 28
Anxiety Reduction 40
Assessment for Mental Health Services 50
Attachment and Bonding Deficits 60
Attention-Deficit/Hyperactivity Disorder (ADHD) 70
Attention-Seeking Behavior 81
Blended Family 92
Bullying Perpetrator 100
Career Planning 111
Conflict Management 122
Depression 133
Disruptive Classroom Behaviors 143
Diversity and Tolerance Training 153
Divorce 162
Grief and Loss 171
Learning Difficulties 180
Oppositional Defiant Disorder (ODD) 188
Parenting Skills/Discipline 199
Physical and Sexual Abuse 212
Physical Disabilities and Challenges 221
Poverty and Economic Factors 230
Responsible Behavior Training 239
School Refusal/Phobia 249
School Violence Perpetrator 259
Self-Esteem Building 269
Sexual Responsibility 279
Indicates that selected Objective/Interventions are consistent with those found in evidencebased treatments.
Sibling Rivalry 290
Social Maladjustment (Conduct Disorder) 300
Social Skills/Peer Relationships 313
Substance Use and Abuse 325
Suicidal Ideation/Attempt 337
Teen Pregnancy 347
Appendix A: Bibliotherapy Suggestions 357
Appendix B: Professional References for Evidence-Based Chapters 377
Appendix C: Websites/Hotlines 393
Appendix D: Index of DSM-IV-TR® Codes Associated with Presenting Problems 399