The Science, and Art, of Program Dissemination: Strategies, Successes, and Challenges: New Directions for Child and Adolescent Development, Number 149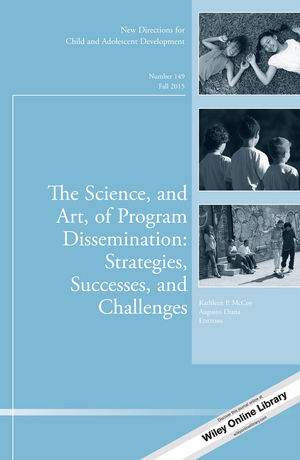 The Science, and Art, of Program Dissemination: Strategies, Successes, and Challenges: New Directions for Child and Adolescent Development, Number 149
ISBN: 978-1-119-17954-2 September 2015 Jossey-Bass 112 Pages
Description
Gain a greater awareness of the processes involved in the dissemination of evidence-based interventions, as well as existing supports that help disseminate and sustain them.
Many interventions that aim to help children and adolescents are found to be efficacious every year, but program developers are often not equipped with the skills, knowledge, or tools to understand how to scale up a program or sustain it after the initial funding. Consumers (e.g., service providers, who are consumers of interventions), on the other hand, often do not understand all that goes into implementing and scaling up an intervention.
This special issue:
introduces readers to the problem,
discusses some of the challenges with disseminating programs, and
presents various supports that exist which can help scale up and sustain interventions.
The authors' goal is to promote the field of dissemination science by encouraging the sharing of
successes and challenges.
This is the 149th volume in this Jossey-Bass series
New Directions for Child and Adolescent Development
. Its mission is to provide scientific and scholarly presentations on cutting edge issues and concepts in this subject area. Each volume focuses on a specific new direction or research topic and is edited by experts from that field.
Table of contents
1. The Science, and Art, of Program Dissemination: Strategies, Successes, and Challenges 1
Kathleen P. McCoy
This introduction to the volume highlights the main issues pertaining to implementing and scaling up social sciences interventions, discussing some of the challenges with disseminating programs and presenting various supports to help scale up and sustain interventions.
2. From Evidence to Impact: Recommendations for a Dissemination Support System 11
Matthew W. Kreuter, Monica L. Wang
This paper discusses critical questions that program developers must answer prior to scale-up, demonstrating how thinking from a business perspective can be beneficial in the process.
3. Three Cs of Translating Evidence-Based Programs for Youth and Families to Practice Settings 25
Kimberley E. Freire, Leah Perkinson, Susan Morrel-Samuels, Marc A. Zimmerman
This paper highlights critical steps that must be taken prior to dissemination in order to be successful.
4. Who Supports the Successful Implementation and Sustainability of Evidence-Based Practices? Defining and Understanding the Roles of Intermediary and Purveyor Organizations 41
Robert P. Franks, Christopher T. Bory
This paper discusses the role of intermediary organizations for program implementation.
5. Family Connections: Using Collaborative Partnerships to Support Dissemination 57
Diane DePanfilis
This paper discusses the use of collaborative partnerships to broadly disseminate a specific intervention: Family Connections.
6. Federal Mechanisms to Support Intervention Dissemination 69
Augusto Diana, Nicole Bennett
This paper provides examples from several federal agencies to illustrate how the federal government has helped sustain child and adolescent interventions.
7. Bringing The Incredible Years® Programs to Scale 81
Carolyn Webster-Stratton, Kathleen P. McCoy
This paper discusses how an intervention can move through various stages of implementation and provides an example of an early childhood intervention that has been scaled-up with strong fidelity.
INDEX 97