The Science Chef Travels Around the World: Fun Food Experiments and Recipes for Kids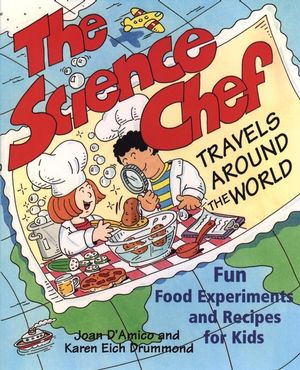 The Science Chef Travels Around the World: Fun Food Experiments and Recipes for Kids
ISBN: 978-0-471-11779-7
Jan 1996
192 pages
Description
Discover the delicious answers as you satisfy your hunger for science!

The Science Chef Travels Around the World is serving up a feast of fun with over 60 easy-to-do food experiments and recipes. Come and join the adventure! You'll travel to 14 fascinating countries--starting in Canada and ending in Ghana--and along the way you'll explore the science secrets of food.

Why does orange soda fizz? Do vegetables really die when you pick them? What makes peanut butter smooth? You'll discover the scientific answers to these and dozens of other yummy mysteries. Plus you'll get to make and eat Sizzling Mexican Chicken Fajitas, tasty Italian Cannoli, Awesome Chinese Egg Rolls, and many other delicious dishes.

Whether you're a beginner or an experienced cook, you can become an International Science Chef, too. All experiments and recipes are kid-tested, include metric equivalents, and require only common ingredients and kitchen utensils. The Science Chef Travels Around the World also includes rules for kitchen safety and a complete nutrition guide.
DISCOVERING THE KITCHEN.

Cooking Skills.

Safety Rules.

NORTH AMERICA.

Canada.

Mexico.

CENTRAL AND SOUTH AMERICA.

Brazil.

EUROPE.

Italy.

France.

Germany.

Spain.

THE MIDDLE EAST.

Israel.

ASIA.

India.

China.

Japan.

Thailand.

AFRICA.

Morocco.

Ghana.

Appendices.

Glossary.

Index.