The Science and Ethics of Engineering the Human Germ Line: Mendel's Maze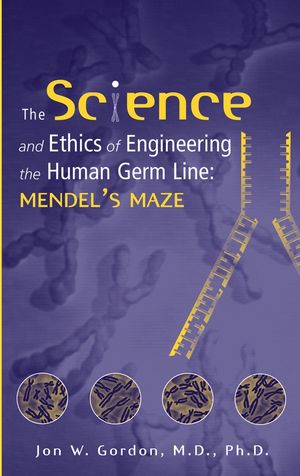 The Science and Ethics of Engineering the Human Germ Line: Mendel's Maze
ISBN: 978-0-471-47820-1
Sep 2003
304 pages
Description
With implications that go to the core of what it means to be human, the issues raised by genetic manipulation-especially cloning-have sparked a passionate debate among governmental, religious, and scientific quarters, as well as the media and the general public. Keeping to the actual science rather than speculation is of the utmost importance for an enlightened approach to this weighty discussion.

In clear, lively prose, The Science and Ethics of Engineering the Human Germ Line: Mendel's Maze provides an authoritative treatment of the principles of science and bioethics that bear upon such technologies as germ-line insertion and cloning. It offers a realistic assessment of possible applications, limitations, and new developments likely to arise in these areas.

Written by a top physician-investigator, this book progresses from the basics of building a living organism from inanimate parts through to recombinant DNA technology, assisted reproductive technologies, and gene transfer and germ-line engineering. Ethical considerations are woven into this material throughout, while a special section covers the intellectual role played by various social biases.

As genetic and reproductive technologies spread from the laboratory to the clinic-and society takes further notice-students and practitioners of biology and medicine, as well as the interested general reader, will find The Science and Ethics of Engineering the Human Germ Line: Mendel's Maze to be an essential and accessible guide to these important subjects.
Preface.
Acknowledgments.
PART I.
1. Setting the Table.
2. Building a Living Organism from Inanimate Parts.
3. Molecular Biology and Recombinant DNA Technology.
4. Transmitting the Genetic Information to Future Generations.
5. Developmental Biology.
6. Reproductive Biology and Assisted Reproductive Technologies.
7. Methods and Strategies for Gene Transfer and Engineering of the Germ Line.
PART II.
8. Introduction to the Ethics of Reproductive Genetic Technologies.
9. Future Developments and Applications of Genetic Engineering Technology.
10. What If? Ethical and Legal Aspects of Germ Line Genetic Manipulation.
A Brief Epilogue: Understanding Our Biases.
Index.
"...will help us engage in a sensible and productive discussion to decide collectively the role genetic technologies should play in our future." (
The Quarterly Review of Biology
, December 2004)
"Academic, hospital, and corporate health sciences libraries would welcome this title as an asset to their collections." (E-STREAMS, July 2004)
"...an essential and accessible guide to these important subjects. Dr. Gordon and John-Wiley Corporation jointly deserve a pat in the back for producing a beneficial and 'eye-opening' book." (Annals of Biomedical Engineering, August 2004)
"...elucidates the background of genetic manipulation for the layman...recommended..." (Choice, Vol. 41, No. 8, April 2004)
"...this book succeeds in demystifying many of the issues surrounding germline genetic manipulations..." (Science Books & Films, April 2004)
"This powerful ethical message, combined with Gordon's scientific acumen, make for a simultaneously accessible and thoughtful book." (Yale Journal of Biology and Medicine, July 2003)