The Science of Decision Making: A Problem-Based Approach Using Excel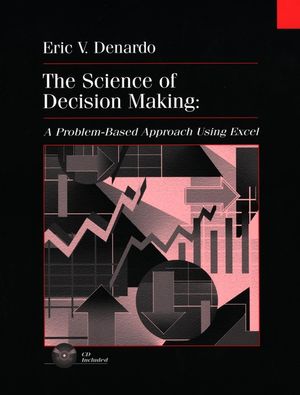 The Science of Decision Making: A Problem-Based Approach Using Excel
ISBN: 978-0-471-31827-9
Aug 2001
720 pages
Description
The Science of Decision Making: A Problem-Based Introduction Using Excel, is a comprehensive, coherent, problems-based approach to learning the science of decision-making. It includes models of operations research for engineering, management, ecomomics and the sciences.
Intended for undergraduate and master's level students in engineering, management, economics, and the sciences taking courses in Operations Research, Introduction to Deterministic and Stochastic Methods, Management Science, Linear Programming, and Probabilistic Models.
Preface.

PART A: INTRODUCTION.

The Science of Decision Making.

Getting Started with Spreadsheets.

PART B: USING LINEAR PROGRAMS.

Analyzing Solutions of Linear Programs.

A Survey of Linear Programs.

Networks.

Integer Programs.

PART C: PROBABILITY FOR DECISION MAKING.

Introduction to Probability Models.

Discrete Random Variables.

Decision Trees and Generalizations.

Utility Theory and Decision Analysis.

Continuous Random Variables.

PART D: STOCHASTIC SYSTEMS.

Inventory.

Markov Chains.

Queueing.

Simulation.

PART E: GAME THEORY.

Game Theory.

PART F: SOLVING LINEAR PROGRAMS.

Solving Linear Equations.

The Simplex Method.

Duality.

Appendix: Note on Excel.

Index.
Problem-based learning. Without exception real world examples are used to introduce ideas and methods. Providing students with an easier means for understanding decision-making models and how to use them.
Comprehensive coverage. The Science of Decision Making: A Problem-Based Introduction Using Excel includes material that is traditionally excluded in most introduction to operations research courses, including models of probability that relate to decision-making.
Depth of understanding. A problem-based approach and Excel enable the student to develop problem-solving skills more effectively than with more traditional texts.
A CD-ROM is included in the text containing educational versions of the Excel Add-ins — Premium Solver, TreePlan, and RiskSim, useful "Add In" funcitions and appropriate data sets.