The Science of Serendipity: How to Unlock the Promise of Innovation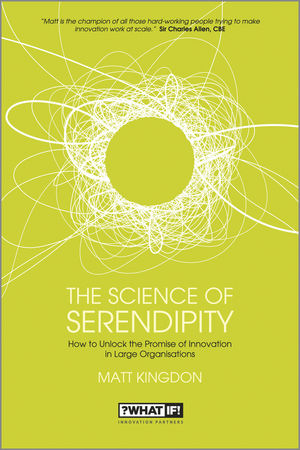 The Science of Serendipity: How to Unlock the Promise of Innovation
ISBN: 978-1-118-47812-7 February 2013 256 Pages
Description
Innovation. The word might make you think of Silicon Valley. But innovation isn't the sole province of start-ups. They didn't invent it, and they're not always the ones from which we can best learn. 
As Matt Kingdon argues in The Science of Serendipity,  it's corporate innovators battling within large, established organisations who are the field's real heroes. Tapping into 20 years of experience on the front lines of innovation—bringing new products and services to market and helping organisations become more creative—Kingdon dissects the ways in which corporations are continually reborn. He looks at the anatomy of innovation, asking: How do time-pressed executives go about taking risks? How do they prepare to see—and seize—opportunity? And how do you place humans, with all of their fears and foibles, at the heart of commercial success?
In a conversational, jargon-free style built on a practitioner's observations and anecdotes, The Science of Serendipity traces the dilemmas that executives in a wide variety of firms face. It details the steps taken to overcome the issues and get great ideas across the finish line. If you're looking for a guide in your fight against the corporate machine, this is the business book for you.
Matt Kingdon is the Co-founder, Chairman, and Chief Enthusiast of What If! Innovation Partners. For 20 years, What If! has partnered with the world's most successful, forward-looking companies—businesses such as Barclays, Four Seasons, Google, PepsiCo, Pfizer, and Virgin—to galvanise innovation and deliver impact. Its 250 inventors work across the Americas, Europe, and Asia.
Introduction 1
The Real Heroes of Innovation
1 The Protagonist 19
'Captain One Minute, Pirate the Next': The qualities innovators need to succeed in a corporate environment.
2 The Quest for Provocation 49
The Deliberate Management of Inspiration: Tackling the unknown, finding new insights to solve old problems and challenging the status quo.
3 Making Ideas Real 89
The Innovator's Favourite Weapon: A philosophy and approach for developing, validating and selling ideas.
4 Collision Course 133
Creating Space for Serendipity: How the physical environment can be used to promote innovation.
5 Battling the Corporate Machine 183
Navigating Naysayers and the Inevitable Organisational Barriers: How corporate innovators succeed.
A Call to Arms 229
Thanks 233
Sources 235
Index 241