The Scientific American Book of Great Science Fair Projects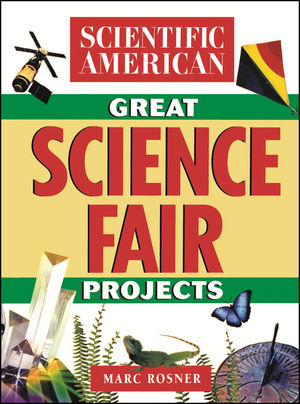 The Scientific American Book of Great Science Fair Projects
ISBN: 978-0-471-35625-7
Nov 2000, Jossey-Bass
128 pages
Description
Explore the wonders of science with the very best of guides!

Have you ever wished that you could observe underwater creatures undetected? Or watch the very moment a caterpillar becomes a butterfly? Or create your own rain? Well, with Scientific American Great Science Fair Projects, you can! Enter the fascinating world of Scientific American--the ultimate science authority--and learn how to build an underwater periscope, photograph a lunar eclipse, grow hydroponic plants, and much, much more! From creating your own non-newtonian fluids (slime, putty, and goop!) to teaching a sow bug how to run through a maze, you'll be astounded at the number of incredible things you can do with Scientific American Great Science Fair Projects. Based on the long-standing and well-respected ""Amateur Scientist"" column in Scientific American, each experiment can be done with ordinary materials found around the house or that are easily available at low cost. Whether you're looking for a great idea for your next science fair project, want to astonish your friends and family with your discoveries, or are just intrigued by the world around you, you'll find endless hours of scientific \fun in this one-of-a-kind project book! Scientific American magazine reaches more than three million readers globally by subscription, on newsstands, and online at www.sciam.com.

The company also publishes Scientific American Explorations, a quarterly family magazine, and the Scientific American Archive, an online archive of issues from 1993 to the present at www.sciamarchive.com
ASTRONOMY.

Making a Sundial.

Photographing Lunar Eclipses.

Tracking Artificial Satellites.

Demonstrating Orbits.

BIOLOGY.

Hydroponics.

Stimulation of Plant Growth.

Sensitive Plants.

Growing Algae.

Cultivating Slime Molds.

Learning Behavior in Sow Bugs.

Breeding Butterflies.

Hummingbird Studies.

Raising Reptiles.

Stereoscopic Vision.

Binocular Vision and the Reversing Cube Illustration.

CHEMISTRY.

Paper Chromatography.

Freezing and Thawing of Water and Salt.

Growing Crystals.

Non-Newtonian Fluids.

Measuring the Thickness of an Oil Slick.

EARTH SCIENCE.

Backyard Archaeology.

Building a Rock and Mineral Collection.

Fossil Models.

Making Clouds.

Measuring Raindrops.

Making a Hygrometer.

Building an Anemometer.

The Coriolis Effect.

PHYSICS.

Experiments in a Wind Tunnel.

Test-Flying Planes Underwater.

The Cartesian Diver.

Color Addition.

Studying Wave Properties in a Ripple Tank.

Wave Interference.

Studying Liquid Vortices.

Gravitational Field Demonstrated in a Soap Bubble.

Building a Periscope.

Kite Flying.

A Rubber Band Heat Engine.

Electric Circuits.

Making an Electroscope.

Electric Pendulum.

Glossary.

Sources.

Index.