The Scientific American Brave New Brain: How Neuroscience, Brain-Machine Interfaces, Neuroimaging, Psychopharmacology, Epigenetics, the Internet, and Our Own Minds are Stimulating and Enhancing the Future of Mental Power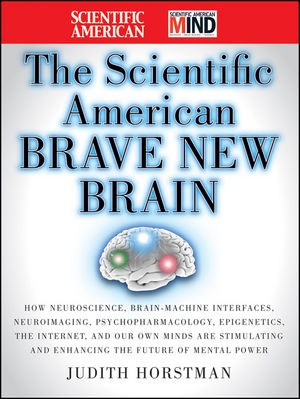 The Scientific American Brave New Brain: How Neuroscience, Brain-Machine Interfaces, Neuroimaging, Psychopharmacology, Epigenetics, the Internet, and Our Own Minds are Stimulating and Enhancing the Future of Mental Power
ISBN: 978-0-470-60281-2
Feb 2010, Jossey-Bass
288 pages
Product not available for purchase
Description
This fascinating and highly accessible book presents fantastic but totally feasible projections of what your brain may be capable of in the near future. It shows how scientific breakthroughs and amazing research are turning science fiction into science fact. In this brave new book, you'll explore:
How partnerships between biological sciences and technology are helping the deaf hear, the blind see, and the paralyzed communicate.
How our brains can repair and improve themselves, erase traumatic memories
How we can stay mentally alert longer—and how we may be able to halt or even reverse Alzheimers
How we can control technology with brain waves, including prosthetic devices, machinery, computers—and even spaceships or clones.
Insights into how science may cure fatal diseases, and improve our intellectual and physical productivity
Judith Horstman presents a highly informative and entertaining look at the future of your brain, based on articles from Scientific American and Scientific American Mind magazines, and the work of today's visionary neuroscientists.
Acknowledgments.
Preface.
Introduction.
1 Your Changeable Brain.
How Your Brain Changes: Neurogenesis, Neuroplasticity, and Epigenetics.
The Birth of Brain Cells: Neurogenesis.
Changes in Your Brain: Neuroplasticity.
Changes in Your Genes: Epigenetics.
Keeping Your New Brain Cells.
No Pain, No Gain.
Brain Training Programs: Help or Hype?
What's Next? And What About My Brain?
2 Boosting Your Brain Power.
The Brave New Pharmacy.
Juicing the Brain: The "Smart Drugs".
The Caveats: Are These Really "Smart Pills"—and Are They Safe?
Six Drug-Free Ways to Boost Your Brain.
Boosting Your Brain with Meditation.
Meditation Means Changing Your Brain.
What's Next? And What About My Brain?
3 Manipulating Your Memory.
Memories Are Made of This—We Hope.
How Memory Works—The Short Version.
Alzheimer's Disease: The Memory Epidemic.
What We Know Now About Dementia.
Marijuana to Ward Off Alzheimer's? Wow. Like, Cool.
Making Memories Stick Around.
A Method for Erasing Bad Memories Without Medication.
The Toll of Mental Illness––and Anxiety.
What's Next? And What About My Brain?
4 Digital You: What the Digital Explosion Is Doing to Your iBrain.
Are You Born Digital––or a Digital Immigrant?
The Brains of Digital Natives.
The Bad, the Good and the Unknown Effects of Technology.
The Future Is Closer Than You Think.
Uses of the Digital You.
What About My Body? Balancing the iBrain and Your Sensory Self.
Beyond Digital: The Serious Need for Play.
What's Next? And What About My Brain?
5 Looking Inside Your Brain.
Windows into Your Brain.
Smile, Say Cheese? Not Exactly: How An MRI Works.
Picture this: Psychopath, Pedophile, Autistic Toddler.
Scanning the Other Half of Your Brain: Why White Matter Matters.
The Limits of Bran Scans.
The Five Flaws of Brain Scans.
What's Next? And What About My Brain?
6 Rewiring the Brain Electric.
The Electrical Revolution: A History of Hot-Wiring Your Head.
The Current Brain Research: Magnets to Implants.
Discovering Depression's Sweet Spot.
Implants for Alzheimer's Disease Patients.
What's Next? And What About My Brain?
7 Your Bionic Brain: The Merging of Brain with Machines
Spare Parts.
Bionic Brain Research Today.
The Britannica in Your Brain––and More.
Artificial Retinas: Giving Sight to the Blind.
An Artificial Hippocampus?
Putting Thoughts into Action.
How and Why Your Brain Is Better Than a Computer–for Now.
What's Next? And What About My Brain?
8 The Possible Dreams: Stem Cells, Gene Therapy, and Nanotechnology.
The Future of Stem Cells.
Retinal Stem Cells from Adults Show Promise.
The Promise of Gene Therapy.
Nanomedicine.
What's Next? And What About My Brain?
9 Neuroethics: Facing the Dark Side.
Stem Cells: Still Fighting After All These Years.
Liar, Liar: Can Brain Scans Reveal the Truth?
Responsibility: My Sick Brain Made Me Do It (The Devil Made Me Do It)?
Privacy, Bias, and Self-Incrimination.
Psychotreatment: Should We Force Psychopharmacological Therapies?
Mental Doping on the Rise: They Jail Athletes, Don't They?
Issues Yet to Come: A Future of Busy Lawyers.
10 The Past Is Prologue: To the Future.
Sources.
Illustration Credits.
Glossary.
About the Author.
Index.