The Scottish Building Regulations: Explained and Illustrated, 3rd Edition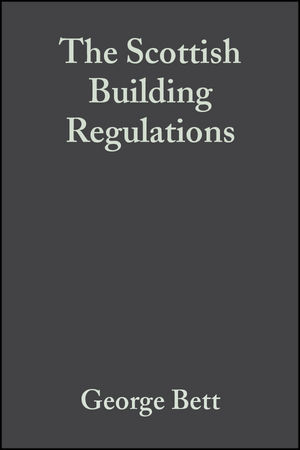 The Scottish Building Regulations: Explained and Illustrated, 3rd Edition
ISBN: 978-1-405-14778-1
Apr 2008, Wiley-Blackwell
416 pages
Description
The book provides a practical guide, with worked examples, to the Scottish Building Regulations. The new edition takes account of substantial revisions to the Regulations on fire and means of escape, structural stability, conservation of fuel and power, and drainage.
Preface.
Acknowledgements.
General Introduction.
Introduction.
I Legal and Administrative Matters.
1. Building Control: An Overview.
2. The 1959 Act and its rRegulations.
3. Administration of Buildng Control.
4. Legal Liabilities.
II Technical Matters.
5. Introduction.
6. Fitness of Materials and Workmanship.
7. Structure.
8. Introduction to Parts D and E.
9. Structural fire precautions.
10. Means of escape from fire and facilities for firefighting.
11. Combustion Appliance Installations and Storage of Liquid and Gaseous Fuels.
12. Preparation of sites and resistance to moisture.
13. Resistance to transmission of sound.
14. Conservation of fuel and power.
15. Ventilation of buildings.
16 Drainage and sanitary facilities.
17. Electrical installations.
18. Miscellaneous hazards.
19. Access and Facilities for dwellings.
20. Solid waste storage.
21. Access to and Movement within Buildings and Protective Barriers.
III Appendices.
Index
* explains the building control system in Scotland with references to the relevant legislation
* summarises legal liabilities under Scots law
* examines, part by part, the technical requirements of the building standards, with extensive illustrations and worked examples for further guidance
* last edition by W. Hamilton et al. published 1996 (ISBN 0-632-04115-3)