The Search Conference: A Powerful Method for Planning Organizational Change and Community Action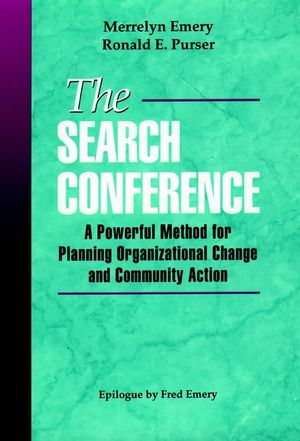 The Search Conference: A Powerful Method for Planning Organizational Change and Community Action
ISBN: 978-0-787-90192-9 May 1996 Jossey-Bass 352 Pages
Description
A comprehensive introduction to a powerful new approach for planning organizational change and community action. You'll discover a simple framework for understanding the process and clear step-by-step instructions to guide you in conducting your own Search Conferences.
THE POWER OF SEARCH CONFERENCES.

1. Learning and Planning Our Way to a Desirable Future.

2. Uses and Advantages of Search Conference Methods.

UNDERSTANDING SEARCH CONFERENCE PRINCIPLES.

3. Planning in Stable and Turbulent Environments.

4. Open Systems Thinking and the Power of Human Ideals.

5. The Strength of Democratic Learning.

6. Conditions for Creative Collaboration.

STRATEGIES FOR EFFECTIVE SEARCH CONFERENCES.

7. Planning for Success.

8. Designing the Search Conference for Effectiveness.

9. Managing the Search Conference.

10. The Search Conference Step by Step.

Conclusion: Beyond Stagnation.

Epilogue (Fred Emery).
"Emery and Purser's book provides a theoretical and practicalknowledge base previously available only through direct contactwith a few gurus. If you're ready to move on to the next level ofsophistication, then you must dig into the Search Confereence, andthis book is the best place to start digging." (D. Douglas McKenna,general manager, Executive and Management Development, MicrosoftCorporation)

"As Emery and Purser ably demonstrate, the Search Conferenceprovides a powerful tool for making organizations flexible andresponsive, Equally relevant for transnational corporations andcommunity nonprofits, this book is a must-read." (Leo Burke,director, Center for Management & Organizational Learning,Motorola University, Motorola, Inc.)