The Second City Guide to Improv in the Classroom: Using Improvisation to Teach Skills and Boost Learning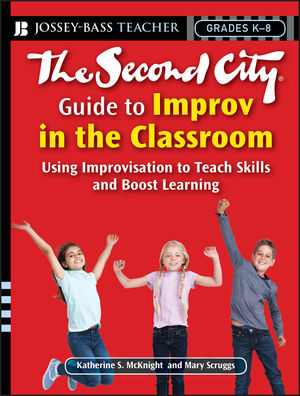 The Second City Guide to Improv in the Classroom: Using Improvisation to Teach Skills and Boost Learning
ISBN: 978-0-787-99650-5
May 2008, Jossey-Bass
200 pages
Description
Most people know The Second City as an innovative school for improvisation that has turned out leading talents such as Alan Arkin, Bill Murray, Stephen Colbert, and Tina Fey. This groundbreaking company has also trained thousands of educators and students through its Improvisation for Creative Pedagogy program, which uses improv exercises to teach a wide variety of content areas, and boost skills that are crucial for student learning: listening, teamwork, communication, idea-generation, vocabulary, and more.
Buy Both and Save 25%!
Original Price:$49.90
Purchased together:$37.43
save $12.47
Cannot be combined with any other offers.
Buy Both and Save 25%!
Original Price:$51.95
Purchased together:$38.96
save $12.99
Cannot be combined with any other offers.
About This Book.
About The Authors.
Acknowledgments.
CHAPTER ONE: It Begins with Play.
Montessori's Connection Between Play and Learning.
Spolin's Connection Between Play and Learning.
What Has Happened to Play?
Why Improvisation Works in the Classroom.
The Second City Connection.
Overview of the Book.
CHAPTER TWO: Improvisation as a Pedagogical Tool for Engaged Learning.
Connections Between Improvisation and Authentic, Engaging Teaching and Learning Experiences.
Teaching and Learning Experiences.
Improvisation for Engaged Teaching and Learning in the Diverse and Inclusive Classroom.
The Brain Connection.
Building a Community for Engaged Teaching and Learning.
CHAPTER THREE: Literacy Learning and Improvisation.
Potential Impact on Literacy Skill Development.
Improvisation and Reading Links.
Improvisation and Writing Links.
Improvisation Links to Speaking and Listening.
Some Concluding Thoughts.
CHAPTER FOUR: Explanation of Improvisation Exercises.
Getting Started.
Time for Improvisation.
Classroom Management.
Sidecoaching and Refl ection.
Improvisation Games.
Ad Game.
Alphabet.
Beginning, Middle, End.
Bippity, Bippity, Bop.
Bus Trip.
Conducted Story.
Deck of Cards.
Dr. Know-It-All.
Gibberish.
Give and Take.
Half-Life.
Mirror.
Object Work.
One-Word Story.
Panel of Experts.
Parts of a Whole.
Pass the Clap.
Slide Show.
Space Walk.
String of Pearls.
Take That Back.
Throwing Light.
Who Started the Motion?
Zip Zap Zop.
CHAPTER FIVE: Skills and Teaching.
Lesson: Lights, Camera . . . Re-Action!
Alphabet Book.
Story Generation Using Beginning, Middle, and End.
Conducting an American Revolution Review.
Speaking in Songs.
Becoming Characters.
Math Gibberish Translator.
Building a Relationship.
Geometric Object Work.
One-Word Story, a Many-Word Story.
Physicalizing Cell Structure.
"Ten Days in a Madhouse" Human Slide Show.
Geometry Walk.
Painting Visualization.
String of Ideas.
Tableau Activity for Analytic Geometry.
Picture Book Tableau.
In-Class Field Trip—Using Tableaux to Explore the Role of Perception in Communication.
Throwing Math Light.
CHAPTER SIX: Engaging Students in Learning.
Authentic and Engaged Learning.
The Literacy Connection.
Some Final Thoughts.
Index.