The Secret Language of Leadership: How Leaders Inspire Action Through Narrative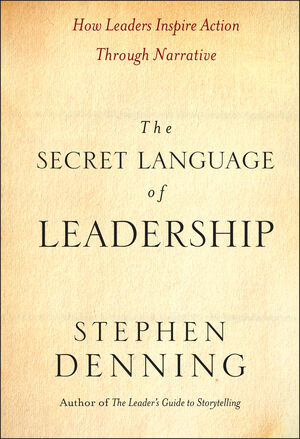 The Secret Language of Leadership: How Leaders Inspire Action Through Narrative
ISBN: 978-1-118-04737-8 January 2011 Jossey-Bass 304 Pages
Description
The book introduces the concept of narrative intelligence—an ability to understand and act and react agilely in the quicksilver world of interacting narratives. It shows why this is key to the central task of leadership, what its dimensions are, and how you can measure it. The book's lucid explanations, vivid examples and practical tips are essential reading for CEOs, managers, change agents, marketers, salespersons, brand managers, politicians, teachers, parents—anyone who is setting out to the change the world.
Table of contents
Preface: My Leadership Journey vii
Part One: What Is Transformational Leadership? 1
Introduction: Ten Mistakes Transformational Leaders Make 3
1 The Secret Language of Leadership 21
Part Two: The Language of Leadership: Key Enablers 51
2 Articulating a Clear, Inspiring Goal 53
3 The Leader's Own Story: Committing to the Goal 65
4 Mastering the Audience's Story 80
5 Cultivating Narrative Intelligence 92
6 Telling Truthful Stories 116
7 Leadership Presence: The Body Language of Leadership 132
Part Three: The Language of Leadership: Key Steps 147
8 Getting People's Attention 149
9 Stimulating Desire 166
10 Reinforcing with Reasons 187
11 Continuing the Conversation 199
12 Epilogue 211
Appendix 1: Presentation to the Change Management Committee of the World Bank: April 1996 221
Appendix 2: Templates and Exercises 229
Appendix 3: What's Your Narrative Intelligence? 235
Notes 245
Acknowledgments 265
About the Author 267
Index 269
Reviews
Named one of the "Best Business Books of the Year" (2007) by
Financial Times
: "Leaders don't just execute strategy, they must inspire others to follow...This book explains how." (
Financial Times
, December 8, 2007)
"Denning cohesively links the importance of narrative intelligence and telling stories to leadership success." (Library Journal, December 2007)
"...if there's one person who knows more than anyone else about the power of business narrative it's...Steve Denning."  (MyCustomer.com, Friday 7th December 2007)
"This book's lucid explanations, vivid examples and practical tips are essential reading..."  (PublicNet.co.uk, Tuesday 4th December 2007)
"...an array of glowing testimonials from truly famous people.  Definitely one for those interested in transformational change."  (Strategic Communication Management, December 2007)
"…an educational and informative book that can be effortlessly read from cover to cover." (Inside Knowledge, September 2007)
Extra
Steve Denning www.stevedenning.com offers a vast repository of resources on leadership, innovation, business narrative, and knowledge management.