The Secrets of College Success, 3rd Edition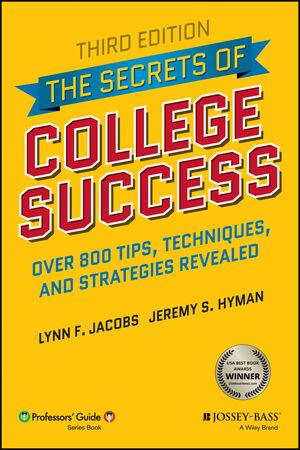 The Secrets of College Success, 3rd Edition
ISBN: 978-1-119-56190-3 March 2019 Jossey-Bass 352 Pages
Download Product Flyer
Download Product Flyer
Download Product Flyer is to download PDF in new tab. This is a dummy description. Download Product Flyer is to download PDF in new tab. This is a dummy description. Download Product Flyer is to download PDF in new tab. This is a dummy description. Download Product Flyer is to download PDF in new tab. This is a dummy description.
Description
Are you among the 22 million students now enrolled in college? Or a high school student thinking of joining them shortly? Or perhaps a parent of a college-bound junior or senior? Then this book is just for you. Written by college professors and successfully used by tens of thousands of students, The Secrets of College Success combines easy-to-use tips, techniques, and strategies with insider information that few professors are willing to reveal. The over 800 tips in this book will show you how to:
pick courses and choose a major
manage your time and develop college-level study skills
get good grades and manage the "core" requirements
get motivated and avoid stress
interact effectively with the professor or TA
prepare for a productive and lucrative career
New to this third edition are high-value tips about:
undergraduate and collaborative research
summer internships
staying safer on campus
diversity and inclusion
disabilities and accommodations
…with special tips for international students at US colleges.
Winner of the 2010 USA Book News Award for best book in the college category, The Secrets of College Success makes a wonderful back-to-college or high-school-graduation gift –or a smart investment in your own college success.
Table of contents
Preface to the Third Edition xiii
Introduction xv
Top 10 Reasons to Read This Book xvii
The Professors' Guide™ Icons xix
1This Is College
10 Things You Need to Know About College (But Probably Don't) 3
The 15 Habits of Top College Students 7
The 10 Worst Self-Defeating Myths 11
10 Ways to Get Motivated at College 15
The 11 Secrets of Getting Good Grades in College 18
14 Ways to Ensure You Graduate in Four Years 22
Top 10 Tips for Community College Students 27
10 Best Tips for Engineering School 32
The College Student's Bill of Rights 36
2 In The Beginning . . .
8 Things to Do the Summer Before College 40
15 Things to Do the Week Before College 45
Do's and Don'ts for Picking Your Courses 49
Top 12 Tips for Picking a Major 53
Top 10 Secrets of the Syllabus 59
10 Questions to Ask Yourself the First Week of Classes 63
13 Warning Signs of a Bad Professor 66
Tips and Tricks for Improving Your Course Schedule 70
3 Skills 3.0
Top 10 Time-Management Tips 77
Top 10 Reasons Never to Procrastinate 82
The How Not to Study Guide 86
10 Must-Do's in Lecture 91
10 Secrets of Taking Excellent Lecture Notes 95
15 Ways to Read Like a Pro 100
15 Strategies for Painless Presentations 105
15 Ways to Build Your Confidence 110
4 Specialties of The House
10 Ways to Whip the Freshman Comp Requirement 117
10 Tips for Taming the Math Requirement 122
Top 10 Tips for Mastering the Foreign (or World) Language Requirement 126
10 Ideas for Learning to Love the Lab 130
10 Tips for the First-Year Experience Course 134
Facing Up to Remediation: Top 10 Strategies 137
10 Tips for Online Courses 142
5 It's Showtime!
12 Tips for A+ Test Preparation 148
"So What's Going to Be on the Test Anyway?" 153
Top 13 Test-Taking Tips 156
10 Tips for Constructing the Perfect Paper 161
10 Things Your Professor Won't Tell You About Grading 167
How to Turn a B into an A 171
14 Techniques for Doing Research Like a Professor 172
Top 10 Tips for Doing E-Research 178
6 Overcoming Challenges
10 Strategies for Staying Safer on Campus 185
8 Strategies for Students from Underrepresented Populations 190
10 Tips for Dealing with Disabilities 195
Top 10 Tips for International Students 200
7 Interfacing with The Professor
15 Ways to Make Your Professor Love You 209
10 Biggest Hesitations About Going to See the Professor—and How to Get Over Them 214
The 14 Secrets of Going to See the Professor 218
Etiquette for E-mailing Your Professor 223
10 Surefire Ways to Piss Off Your Professor 227
Top 10 Things Professors Never Want to Hear—and What They Think When They Do Hear Them 231
8 In Case of Emergency . . .
10 Things to Do When You Can't Keep Up with the Lecture 235
8 Things to Do When There's Too Much Reading 240
Top 10 Signs You've Been Cutting Too Many Classes 244
What to Do When You've Bombed the Midterm 245
7 Best Last-Minute Strategies for Saving Your Grade 248
10 Signs You're in Real Trouble at College 253
What, Then, to Do? The 7-Step Approach 256
9 The Second Half
10 Must-Do's At The Halfway Point of College 261
12 Skills You'll Need for a Career—and How to Get Them at College 265
Top 10 Tips for Doing Undergraduate Research 269
10 Strategies for Women Considering a Career in STEM Fields 274
Do's and Don'ts for a Summer Internship 278
Summer School Pros and Cons 281
Top 10 Myths About Study Abroad 285
10 Tips for the Senior Thesis 289
10 Moving On
The 10-Step Program for Thinking About Grad School 296
Top 10 Tips for Getting Bang-Up Recommendations 301
8 Tips for Finding a Job 305
How to Ace the Job Interview 309
The End—And The Beginning
The 3 Most Important Tips 315
Index 317
Notes 329