The Seventeenth - Century Literature Handbook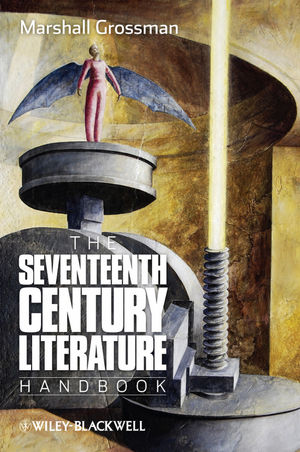 The Seventeenth - Century Literature Handbook
ISBN: 978-1-444-39011-7 January 2011 Wiley-Blackwell 392 Pages
Description
The Seventeenth Century Handbook
provides the undergraduate with a succinct account of the century's events, along with an exploration of the ways the literature reflected and helped shape the history of the time.
Provides a coherent narrative of the entire century of literary history as well as an easy-to-use guide to the principal literary works and figures
Offers an exploration of the ways the literature reflected and helped shape the history of the time
Describes the continuities as well as the radical changes in this century of civil war and reformation
Combines a central narrative account of "texts and contexts" with a selection of brief essays on key texts and topics
Includes an alphabetical selection of capsule descriptions of important writers
Table of contents
Preface.
Chronology.
Part 1 Texts and Contexts: An Overview.
Reading the Historical Landscape.
Renaissance and/or Reformation: From Elizabeth to James.
New Science Leaves All in Doubt.
Business and Trade.
Breaking the State.
The Restoration.
The Short Reign of James II and the Glorious Revolution of 1688.
The Production of Culture in the Seventeenth Century.
Part 2 Topics in Seventeenth-Century Literature.
Aemilia Lanyer and the Gendering of Genre.
Changing Conventions: Hamlet and The Alchemist.
Pamphlet Wars: To Kill a King!
Everything Happens Twice.
Part 3 Some Key Texts.
The Winter's Tale.
Areopagitica.
Paradise Lost.
The Pilgrim's Progress.
Part 4 Writers of the Seventeenth Century.
Astell, Mary (1666–1731).
Bacon, Francis (1561–1626).
Baxter, Richard (1615–1691).
Beaumont, Francis (1584–1616).
Behn, Aphra (1640?–1689).
Boyle, Robert (1627–1691).
Browne, Sir Thomas (1605–1682).
Bunyan, John (1628–1688).
Burton, Robert (1577–1640).
Carew, Thomas (1594/5–1640).
Cavendish, Margaret, Duchess of Newcastle (1623–1673).
Cowley, Abraham (1618–1667).
Crashaw, Richard (1613–1648).
Davenant, Sir William (1606–1668).
Donne, John (1572–1631).
Dryden, John (1631–1700).
Filmer, Sir Robert (1588–1653).
Fletcher, John (1579–1625).
Fox, George (1624–1691).
Hartlib, Samuel (1600–1662).
Herbert, George (1593–1633).
Herrick, Robert (1591–1674).
Hobbes, Thomas (1588–1679).
Hutchinson, Lucy (1620–1681).
Hyde, Edward, First Earl of Clarendon (1609–1674).
Jonson, Ben (1572–1637).
Lanyer, Aemilia (1569–1645).
Locke, John (1632–1704).
Lovelace, Richard (1617–1657).
Marvell, Andrew (1621–1678).
Middleton, Thomas (1580–1627).
Milton, John (1608–1674).
Otway, Thomas (1652–1685).
Pepys, Samuel (1633–1703).
Philips, Katherine (1632–1664).
Shadwell, Thomas (1640–1692).
Shakespeare, William (1564–1616).
Suckling, Sir John (1609–1641).
Traherne, Thomas (1637–1674).
Vaughan, Henry (1621–1695).
Webster, John (1578?–1638?).
Wilmot, John, Earl of Rochester (1647–1680).
Wroth, Lady Mary (1587–1653?).
Works Cited.
Index.
Reviews
"This project captures the generosity and elegance of Marshall Grossman's teaching and scholarship and reminds us of why he will continue to be so much missed." (Milton Quarterly, 16 October 2014)
"Written with a beginner audience in mind. Grossman provides an overview of seventeenth-century historical, literary, and cultural shifts, along with short essays on notable early seventeenth-century texts.
The Seventeenth-Century Literature Handbook
will be of particular interest to teachers of seventeenth-century literature courses, as the text would be appropriate to assign at the undergraduate level." (
The Year's Work in English Studies
, 2013)