The Sexual Citizen: Queer Politics and Beyond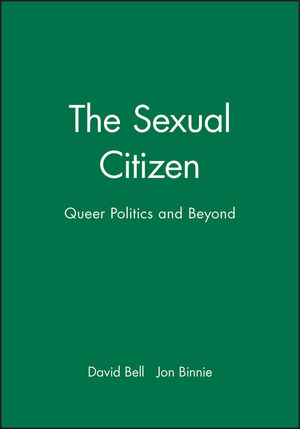 The Sexual Citizen: Queer Politics and Beyond
ISBN: 978-0-745-61653-7 December 2000 Polity 184 Pages
Description
The notion of citizenship, with its balancing of rights and responsibilities, has become a dominant way of articulating sexual politics today. In
The Sexual Citizen
, David Bell and Jon Binnie critically explore the notion of sexual citizenship as a way to think through the ever-changing political, legal, social and cultural landscapes of sexuality.

The book examines sexual citizenship in a number of key sites of contemporary sexual politics (the market, marriage, the military, the city, the family) and focuses on a number of key theoretical debates on sexuality in relation to consumption, space and globalization. Critiquing existing theories of sexuality and citizenship, and drawing on a wide range of theoretical perspectives, The Sexual Citizen addresses both the promises and limitations of using the discourses of citizenship in the context of contemporary sexual politics.

The Sexual Citizen will be of interest to students and academics in lesbian and gay studies, politics, legal studies, sociology, cultural studies and geography
Table of contents
Acknowledgements.
1. Sexing Citizenship.
2. Sexual Politics And Sexual Citizenship.
3. Marriage, The Military And The Sexual Citizen.
4. The Sexual And The Social.
5. Sexual Democracy And Urban Life.
6. The Love That Dares Not Forget Its Brand Name.
7. Transnational Sexual Citizenship.
8. Turn It Into Love.
9. Hard Choices.
Notes.
Bibliography.
Index
Reviews
'
The Sexual Citizen
is a provocative and highly readable volume that brings together the literatures on citizenship and sexuality. Bell and Binnie explore the meaning of the sexual citizen in relation to the city, debates around same-sex marriage, the military and globalization.
The Sexual Citizen
is a reliable guide to current debates on citizenship and sexuality.'
Professor Steven Seidman, University at Albany, State University of New York
'This book is tantalizing, evocative, and approachable ... anyone keen to begin thinking carefully about our current struggle for sexual rights would do well to engage with Bell and Binnie's critique.' Canadian Journal of Sociology Online

"This is a thoughtful and stimulating book that I highly recommend." Gavin Brown, Sexualities

"This short, sharp, and succinct account by Bell and Binnie covers its topic very well and can be highly recommended for anyone who wants to get a quick grasp of the field and the issues. It is also a polemic: the authors have a clear, radical stand to take, which makes for a lively series of points to debate, too. And because it is relatively short, I can see many virtues to its use as a student text." American Journal of Sociology
Features
This book offers an new and exciting analysis of sexual politics, mapping the relationship between sexuality and citizenship.The book goes beyond previous discussions and asks: what have we learnt from the debates, where are we now, and where do we go from here?The authors are both well-known writers in this field, acknowledged for their exciting and innovative approach.