The Shadow Side of Fieldwork: Exploring the Blurred Borders between Ethnography and Life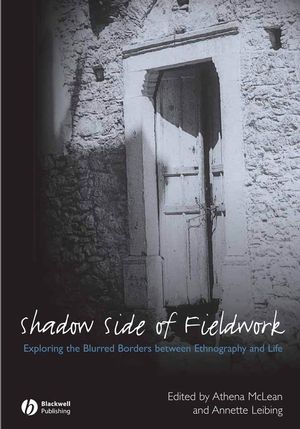 The Shadow Side of Fieldwork: Exploring the Blurred Borders between Ethnography and Life
ISBN: 978-1-405-16981-3 August 2007 Wiley-Blackwell 328 Pages
Description
The Shadow Side of Fieldwork draws attention to the typically hidden or unacknowledged aspects of ethnographic fieldwork encounters that nevertheless shape the resulting knowledge and texts. Addressing these invisible, elusive, unspoken or mysterious elements introduces a distinctive rigor and responsibility to ethnographic research.



Luminaries in anthropology dare to explore the 'unspeakable' and 'invisible' in the ethnographic encounter

Considers personal and professional challenges (ethical, epistemological, and political) faced by researchers who examine the subjectivities inherent in their ethnographic insights

Explores the value, and limitations, of addressing the personal in ethnographic research

Includes a critical discussion of the anthropologist's self in the field

Introduces imaginative rigor to ethnographic research to heighten confidence in anthropological knowledge
Dedication.
Acknowledgements.
Contributors.
Foreword: In the Shadows: Anthropological Encounters with Modernity: Gillian Goslinga (University of California, Santa Cruz) and Gelya Frank (University of Southern California).
Introduction: 'Learn to Value your Shadow!': An Introduction to the Margins of Fieldwork: Annette Leibing (University of Montreal) and Athena McLean (Central Michigan University).
Part I: Secrecy and Silence in the Ethnographic Encounter:.
1. Out of the Shadows of History and Memory: Personal Family Narratives as Intimate Ethnography: Alisse Waterston (John Jay College of Criminal Justice) and Barbara Rylko-Bauer (Michigan State University).
2. When Things Get Personal: Secrecy and the Production of Experience in Fieldwork: Anne M. Lovell (National Institute for Research on Health and Medicine, Marseille).
Part II: Transmutations of Experience: Approaching the Reality of Shadows:.
3. The Scene: Shadowing the Real: Vincent Crapanzano (CUNY Graduate Center).
4. Transmutation of Sensibilities: Empathy, Intuition, Revelation: Thomas Csordas (University of California, San Diego).
Part III: Epistemic Shadows:.
5. Shining a Light into the Shadow of Death: Terminal Care Discourse and Practice in the Late Twentieth Century: Jason Szabo (Harvard University).
6. The Hidden Side of the Moon or, 'Lifting Out' in Ethnography: Annette Leibing (University of Montreal).
Part IV: The Politics of Ethnographic Encounter: Negotiating Power in the Shadow:.
7. The Gray Zone: Nancy Scheper-Hughes (University of California, Berkeley).
8. Others within Us: Collective Identity, Positioning and Displacement: Meira Weiss (Hebrew University of Jerusalem).
9. Falling into Fieldwork: Lessons from a Desperate Search for Survival: Rose-Marie Chierici (SUNY Geneseo).
Part V: Blurred Borders in the Ethnographic Encounter of Self and Other:.
10. Field Research on the Run: One More (from) for the Road: Dimitris Papageorgiou (University of the Aegean).
11. Intimate Travels through Otherness: Ellen Corin (McGill University).
12. When the Border of Research and Personal Life become Blurred: Thorny Issues in Conducting Dementia Research: Athena McLean (Central Michigan University).
Index
"Important and invaluable ... .This book brings that totality out of the shadows and into the light. It is written in an accessible manner and should inform teaching of research methods at both an undergraduate and postgraduate level, being a core text in the latter. It should be a companion guide to us all." (
Journal of the Royal Anthropological Institute
, September 2009)
"There are some fabulous papers in here: thought provoking, stimulating, well-written, clever papers." (Anthropological Forum, July 2009)


Luminaries in anthropology dare to explore the 'unspeakable' and 'invisible' in the ethnographic encounter

Considers personal and professional challenges (ethical, epistemological, and political) faced by researchers who examine the subjectivities inherent in their ethnographic insights

Explores the value, and limitations, of addressing the personal in ethnographic research

Includes a critical discussion of the anthropologist's self in the field

Introduces imaginative rigor to ethnographic research to heighten confidence in anthropological knowledge